Tinkham Latest News

View Archives
June 2, 2018
Congratulations Graduates!

View more images from our 2018 Graduation Ceremony! Congratulations to all of your hard work.
April 19, 2018
What's Your 17? 17 Days of Positivity

View more images from this event
Tinkham participated in a 17 day challenge called "What's Your 17" which tracked positive acts of kindness between students. Students who competed in this challenge were entered into a drawing for a certificate from Texas Roadhouse. The image you see above is when all of our students formed a peace sign in the Wayne Memorial high school field.
February 2, 2018
MAEO STARS has new members!
Please welcome our newest members:
Hallie Eadens
Skyler Luttermoser
Taji Brooks
Lexi Thompson
Kiana Murray
Jeyden Smith
The STARS will begin working on the pieces for competition, please wish them luck as they plan for the months ahead! This group is doing great things and they are all looking forward to amazing futures as leaders.

November 14, 2017
Meet this years Student Assistants for Mrs. Fournier
November 10, 2017
Academic Honors Ceremony
Read more about and view all images from our Academic Honors Ceremony
October 31, 2017
Mrs. Fournier's 1st hour class won trivia challenge during College & Career Week
October 17, 2017
Mrs. Fournier's class planting bulbs for a service learning project
October 14, 2017
Graphic Design student Charles Frazier creates Tinkham Pride t-shirts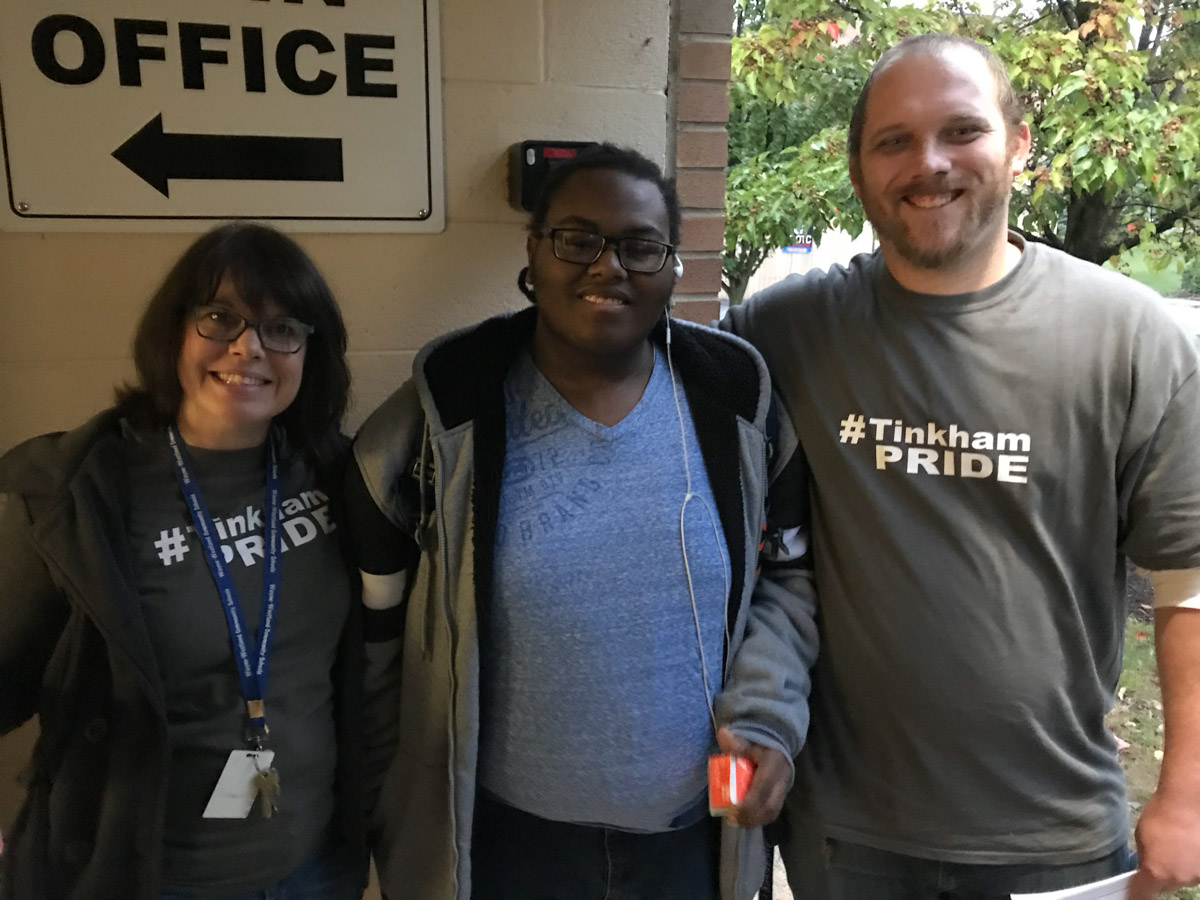 One of Tinkham's graphic design CTE students (Charles Frazier) designed and created our school shirts. Special thanks to our partnership with Michigan Works, who donated the money to create these shirts.
In this picture he's posing with two staff members, Patrick Sonak and Debora Carr.

October 12, 2017
ESL Students for Korean Chuseok holiday with Songpyeon celebration