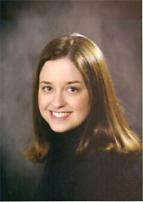 Amanda R. Dybus, LLMSW, Director
I have been the Director of the Family Resource Center since November 2009. Prior to joining the district, I was a Case Manager for Common Ground's Transitional Living Program, assisting homeless and at-risk youth and their families in crisis. I am a graduate from Eastern Michigan University, with a Bachelors Degree in Social Work, and have a Masters Degree in Social Work from the University of Michigan - Ann Arbor. During my time at the University of Michigan, I completed a graduate internship with the Farmington Public Schools District, as a School Social Worker. I am licensed in the State of Michigan as a Social Worker, and hold a School Social Worker Certificate.

I have been an intern and/or volunteered for numerous non-profit agencies, including but not limited to: HelpSource Agency in Ann Arbor, Marillac Outreach Services in Southfield and Common Ground Sanctuary in Royal Oak Michigan. I have also worked with Birmingham Public Schools and Orchards Children's Services in Southfield.
In my role as the Coordinator of the Family Resource Center, I enjoy working with students, their families, and with the district as a whole.
I invite all families to contact and come visit the Family Resource Center!