Family & Community Engagement
Engaging families to improve the health and welfare of our community.
Intentionally connecting community partners to support our schools, staff, students and their families.
How You Can Help
Financial Support

Fund a "buddy bench"
Staff appreciation
Beautification project at school (maintain green space, plant flowers around the school and in courtyards)
Provide sweatpants, underwear, and socks
Sponsor a class field trip
Provide tissue, sanitizing wipes and hand sanitizer for classrooms
Adopt a new teacher
Purchase electric pencil sharpeners for teachers
Adopt families during the holidays
Purchase games and equipment for recess
Sponsor a student to participate in after-school activities
People Support

Read to kids (Literacy Corps)
Mentor kids - meet with students on a regular basis to check-in and provide guidance
Help students during lunchtime
Help monitor students during recess
Be a guest speaker
Host/sponsor a family event
Serve on an advisory board
Help students with their homework
Facilitate an after-school club
Classroom volunteer
Hallway/lunch monitor
Become a Watch D.O.G.
View our District Map


View map larger
Upcoming Community Events

View Archives
December 13, 2018
Partnership with North Brothers Ford on January 15, 2018 at 12pm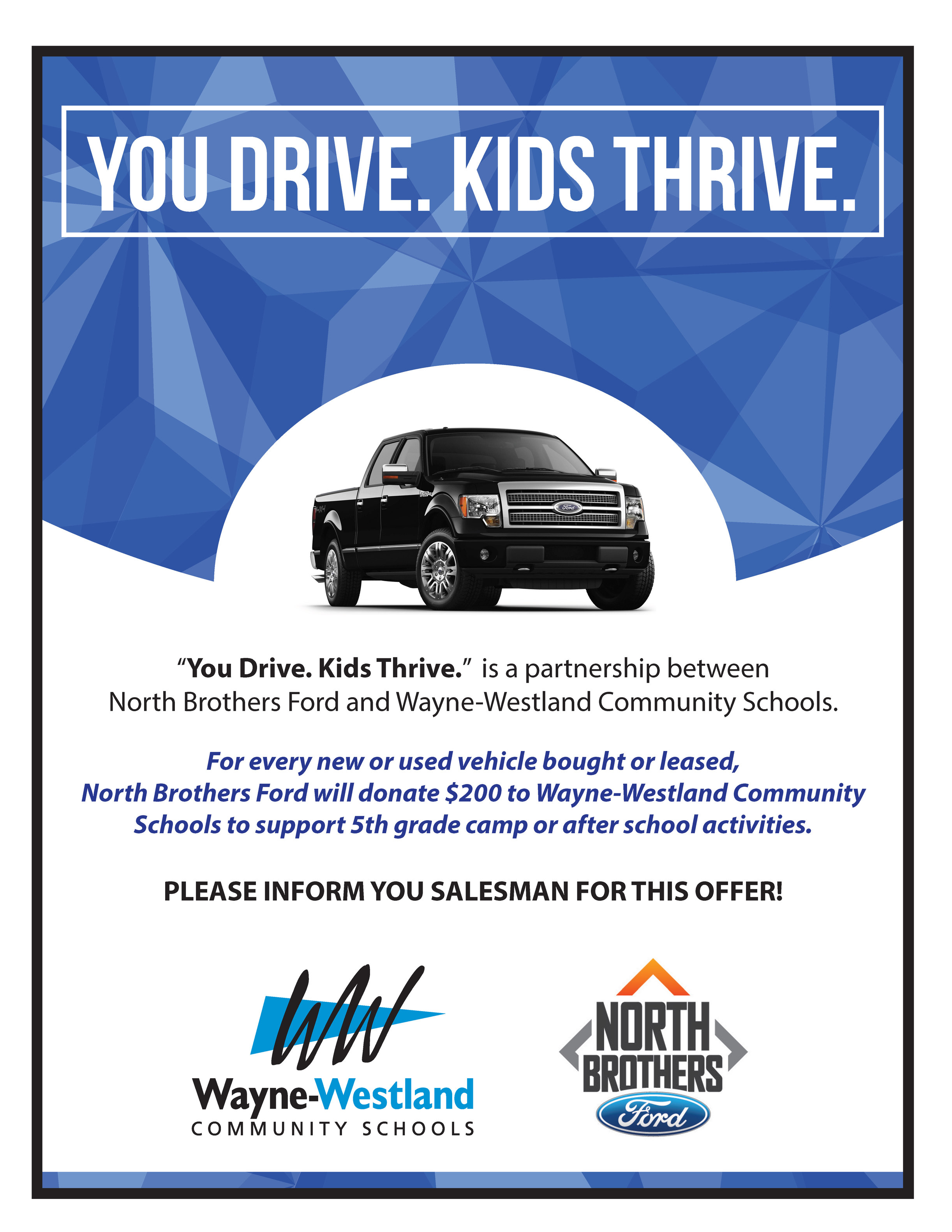 Please join us in launching our You Drive. Kids Thrive. partnership with North Brothers Ford on January 15 @ 12pm @ North Brothers Ford on Ford Rd in Westland.
The You Drive. Kids Thrive. program will support 5th graders going to camp and afterschool activities. North Brothers Ford will donate $200 to Wayne-Westland Community Schools when individuals buy or lease a new vehicle.
Please join us in celebrating this wonderful partnership! Please RSVP by calling (734) 419-2036.
Thank you for your support.
December 3, 2018
Show Me the Money
Check out our "Show Me the Money Day" happening at Jefferson Barns Community Vitality Center. Friday, February 8, 2019 (11am to 4pm) 18100 Meyers Rd, Detroit MI 48235 & Monday, February 11, 2019 (4pm to 7pm) 32150 Dorsey St, Westland, MI 48186
November 9, 2018
Holiday Assistance Application Information


Holiday Assistance 2018 Application Information
Click the link above for more information from our community partners such as Goodfellows, Salvation Army, and Hype.
Resources

Community Resources
This list above contains a list of the following: abuse, add/adhd, adoption/fostercare, adult daycare, alternative schools, assisted living, benefits, child support, childcare, clothing, counseling & crisis intervention, dental, diapers, diabetes, disability information, divorce support, education & literacy, educational testing, employment, English second language (ESL), financial assistance, fire support, food programs, foster care, furniture, grief support, healthcare, hearing impaired, homelessness, housing, infant & prenatal, insurance, laundry services, legal assistance, libraries, literacy services, metal health, mentoring, motgage, parenting support, runaway, senior services, special education, substance abuse, suicide hotline, support groups, transportation, tutoring, unemployment, utilities, and vison.