Welcome WWCS Families!
On Monday August 10, 2020, the WWCS Board of Education voted on the 2020-21 Return to Learn plan options. The board voted to begin the 2020-21 school year with distance learning for all Wayne-Westland students until at least October 23, 2020. Students will participate in distance learning with Wayne-Westland Community Schools teachers.

Videos and Presentations
---
We hope that you have been able to spend quality time with your family over the last few weeks. As you are all aware, the district has been working diligently to provide the best possible education for a wide spectrum of families in our district. Student and staff safety is our number one priority which inherently affects the health and safety of our entire community.
The district is planning various options for the fall. Unfortunately, this pandemic evolves very quickly which does not allow us to settle on one plan at this time. We will continue to work throughout the remaining summer to adapt to the changing circumstances related to the pandemic. Below you will find the scenario plans that will be presented to our Board of Education for consideration.
The district has been monitoring and planning and will continue to adapt strategies throughout the coming month. We know you may have questions and that information is developing rapidly. Please watch our Return to Learn Updates page as we will be frequently updating this content as we have new information.
Return to Learn Planning Committee
Transportation: Rhonda Lyons

Food Service: JoAnn Gross

Technology: Seth Wenzel

Curriculum and Instruction: Jen Curry, Kate Brohl (K-5), Sheri Grove (6-12)

Special Education: Charley Hallman

Operations: Tony Spisak

Communications: Jenny Johnson and Cheryl Watson

Childcare: Maria Mitter

Wellness: Amanda Dybus & John Besek


WWCS Distance Learning Schedules
**This schedule represents a basic framework. Your child's classroom teacher will communicate their specific classroom schedule once school begins.**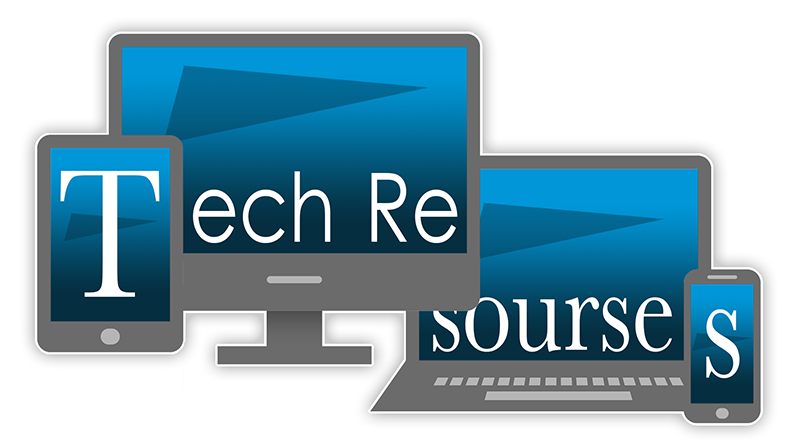 Community Tech Help includes info on the following:
Parents Help Page:
Students Help Page

Free and Low Cost Internet Options
Return to Learn Latest News

View Archives
July 31, 2020
Return to Learn Frequently Asked Questions
Please read the Return to Learn Frequently Asked Questions. They will be updated as more information becomes available.

Return to Learn Frequently Asked Questions
July 30, 2020
Letter to Families
Dear Wayne-Westland Families,
I hope you are enjoying a restful and healthy summer. As you know, we have been focused on the ongoing work related to our Return to Learn plan for the 2020-21 school year. Our top priority is student and staff safety. COVID-19 has created a unique situation for students, families, and staff to work together to find the best fit to support the community and the education of our children.
Wayne-Westland Community Schools has formed a committee dedicated to reopening school in the fall focused on academic excellence, and health and safety. The plans we have in place are thorough and ready to implement without delay in the event we need to switch plans. While we all want students back in school full time, direction and guidance we receive from the State of Michigan, the local health department, and the CDC may change details of these plans. One thing that won't change is making the safety of our students and staff our top priority.
The three scenarios the District are preparing for include:
Face to face instruction (traditional model)
Hybrid instruction (students return to school two days a week)
Virtual instruction (all classes are online)
Here is a detailed explanation of each of the models in our Return to Learn plan. As you may know, the Return to School Plan from the State of Michigan does allow local districts to determine what model to use to deliver instruction.
Last spring, our teachers transitioned to remote instruction with little prep time. Our Curriculum Instruction and Assessment Department is working to ensure that should the need arise again, we will be better prepared to provide the best educational experience possible. They have also investigated best practices for virtual/hybrid learning and are gathering feedback and data on the successes and failures over the last ten weeks of the 2019-20 school year. Regardless of what model we will follow in the fall, the school calendar will be the same. Grades will be issued each marking period; the semesters and assessment calendar will be the same, and grading practices will be followed.
Our work has been focused on health and safety, transportation, food service and the logistics of reopening. Below are some quick updates on the planning process that follows the MI Safe Schools Return to School Roadmap.
Health and Safety protocols will follow the state-mandated requirements in cooperation with the CDC and local health department guidelines. Some of the key areas in development are:
Arrival/dismissal of students.
Usage/transition of shared spaces (hallways, cafeteria, commons, gymnasium).
Classroom usage (with social distancing, cleaning protocols, and health equipment).
Bathroom availability, usage, and cleaning.
Isolation room for sick students (location and process for admitting).
Check-in process for all visitors and guests.
After-school activities.
Our athletics department has been working within the MHSAA guidelines to restart interscholastic athletics, and summer workouts continue. We are working on plans for extra-curricular activities which also include the marching band.
Our marketing and communications team is developing processes for communicating the updates to families as clearly, concisely, and regularly as possible. Updates will be sent out as recommendations are finalized, accepted, and approved. We know there are a lot of questions. We have started a FAQ section on our District website. Please check the website weekly as we will continue to add more information as soon as it becomes available.
We are focused on putting together a comprehensive, compliant, and tailored-to-Wayne-Westland Community School plan for the fall. Our top priority is the health and safety of our students and staff.
We look forward to the opportunities for Wayne-Westland Community Schools to show everyone how we are encouraging students to develop their passion, character, and intellect. Rest assured, we will continue to strive to create and foster an atmosphere of collegiality and collaboration with our varied stakeholders as the final plans come to fruition for the beginning of the school year. I am looking forward to seeing all of the students and staff back in the halls of the Wayne-Westland Community Schools. By working together, we can make sure that the Wayne-Westland CommUNITY School system remains the stable force and spark that our children need to ensure a GREAT Future. We have a unique opportunity to move our school community forward and we will navigate this crisis together.
Dates to Remember:
August 3 - Board of Education Study Session on Return to Learn models including safety and operations
August 10 - Board of Education meeting. Superintendent Dignan will make a recommendation to the Board of Education and they will vote on the Return to Learn model to return to school.
August 11 - Return to Learn presentation to staff. We will send the meeting information next week.
August 12 - Return to Learn presentations to the community. We will send the meeting information next week.
August 17 - Return to Learn plan due to Wayne County RESA for approval according to the governor's Return to School Roadmap.
August 17- Last day to register for Wayne-Westland Online Learning K-12.
We want to hear stakeholder's voices and provide two-way communication opportunities and involvement of our community. Please take this short survey to provide feedback that will assist in our decision making. Each week we will send out a short survey to monitor our progress planning, implementation and execution.
In our school commUNITY, we develop champions in the classroom, in competition, and in life. Thank you for your commitment to the Wayne-Westland Community Schools.
Sincerely,
John Dignan
Superintendent
July 1, 2020
Letter to Families
Dear Wayne-Westland Families,
Yesterday's release of the MI Safe Schools Return to School Roadmap by the State of Michigan includes guidelines, requirements and recommendations for students to return to the classroom this fall. We have integrated many of these guidelines into our plans already. We will incorporate others as appropriate and necessary for the new academic year. Our top priority is the safety and security of our students and staff.
Based on the state's guidelines, there will be significant costs associated with every aspect of adhering to this plan. As such, we need to see a renewed commitment from state and federal legislators to allocate additional funding for schools to be able to follow these guidelines and reopen safely.
While COVID-19 has introduced uncertainty into our lives, two things will not change at Wayne-Westland Community Schools:
We will continue to create a positive learning environment focused on providing a high-quality education using a personalized approach.
We will continue to partner with our families to meet the mental and physical health needs of every child enrolled at Wayne-Westland Community Schools.
We are excited to open our school doors for our students and staff once again, doing what WWCS does best, providing exemplary teaching and learning.
As we have more information, we will share it with you. Please check your email and the District website for up-to-date information. If you have questions, you can email Jenny Johnson at johnsonje@wwcsd.net.
Thank you again for your continued patience and support. Remember, our priority is the safety of our students and staff. That is what drives the decisions we make for our District. Please stay safe this summer.
2020-2021 WWCS Return Plan Scenarios
The first day of school is Tuesday, September 1, 2020. The phase the state of Michigan is in, as determined by Governor Whitmer's MI Safe Schools Return to School Roadmap, will determine what plan WWCS will follow.

WWCS Return to Learn Plan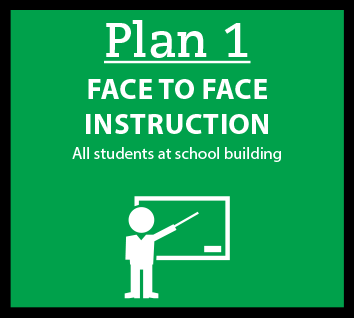 Buildings allowed to reopen at full capacity
Students attend school on campus
Preventative hygiene policies and physical distancing guidelines
Enhanced daily cleaning measures and protocols
Remote learning options available to students who need it
Social-emotional support available
Transportation available
Breakfast and lunch available K-12
IEP & 504 programs and services provided as outlined in the student's plan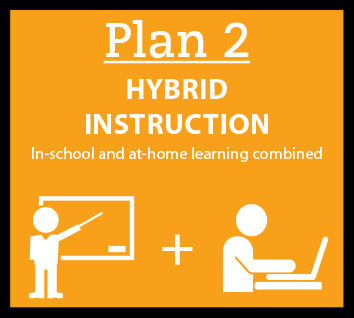 Buildings allowed to reopen at partial capacity
Combination of face-to-face and remote learning
Optimizes limited in-person instruction with remote learning
Access to remote instruction and resources ensured for all
Staggered schedules to limit student exposure
Social-emotional support available
Enhanced cleaning measures with deep cleaning once a week
Transportation available
Food service K-12
IEP goals addressed in person as well as remotely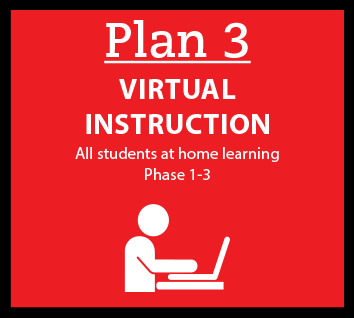 Buildings are not allowed to open or there is an Intermittent Closure
Remote learning delivery of instruction
Access to remote instruction and resources ensured for all
IEP goals addressed remotely
Remote social-emotional check-ins
Food service K-12
Wayne-Westland Community Schools will continue to work closely with the Michigan Department of Education, state and county health officials. The details of this document are subject to change as directives are provided by the Michigan Department of Education.
Reminder: The District offers Wayne-Westland Online Learning School (formerly Great Futures Online School) for K-12 students. This option has been available to students in grades 9-12. This year, the program has expanded to include students in all grades (K-12). Please visit our Wayne-Westland Online Learning page for more information.
Slide Presentations and Videos

---
Special Back To School Message from State Superintendent Dr. Michael Rice
Technology Department Community Presentation - August 24, 2020
Special Education Town Hall Presentation on August 19, 2020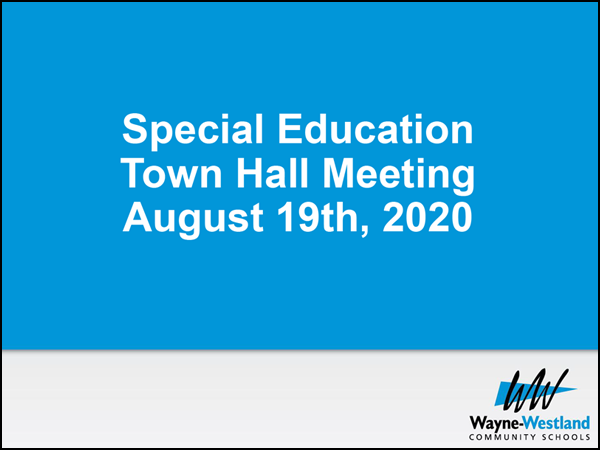 Presentation : Special Education Town Hall Meeting August 19th, 2020
Return To Learn Presentation by Superintendent Dignan - August 12, 2020
Presentation to the Board of Education on August 10, 2020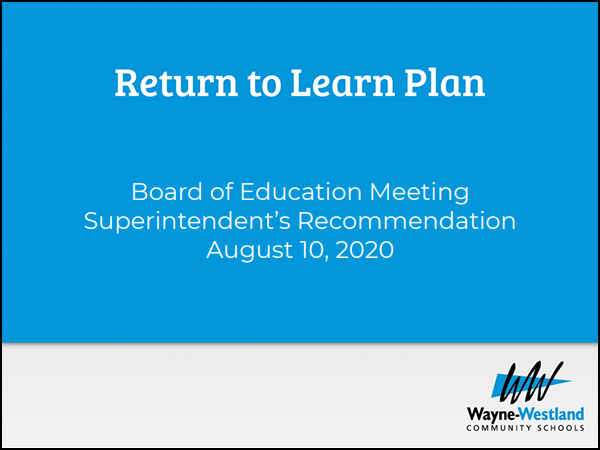 Board of Education Meeting Superintendent's Recommendation August 10, 2020
Board of Education Study Session Presentation on August 3, 2020
Return to Learn Special Education Presentation
Return to Learn Presentation to the Board of Education- July 23, 2020
State of Michigan & Other Resources