Champions Contact Information for all schools
Contact Information
Cassie Nickels - Senior Area Manager - 734-776-8983
Champions Customer Care - 800-246-2154
Website - Visit www.discoverchampions.com for a Live Chat with a Family Support Representative
We ask that you be mindful that these are cell phones and are with us during the nights and weekends. We would love to best take care of you during all hours but also have families of our own at home to take care of and spend time with. Please understand that between 7 pm and 6 am we will only listen to a VM and return a call if it is a true emergency. We also do not answer on the weekends so if you must, just call and leave a message and we will return your call on the next working day.
Additionally, please leave a message if you need a return call. We hear from many of you that you have called but are not leaving messages and you are frustrated you aren't receiving a return call. We cannot call back if we do not know the issue to help you solve so please, leave a detailed message and we will get back to you as soon as possible.
Wayne-Westland Community Schools Champions Programs.
Here is also a list of the phone numbers to reach your local Site Directors and Assistant Teachers:
Edison - 734-722-7319
Elliott - 734-326-0986
Hamilton - 734-595-3424
Schweitzer - 734-326-0980
Stottlemyer - 734-512-8571
Wildwood - 734-983-8745
Graham - 734-502-4011
Hoover - 734-589-7048
Walker - 734-467-1872
Marshall - 734-620-1380
Roosevelt – 734-516-8861
Adams – 734-516-6482

Please note: The site numbers will not be answered outside of program hours as these phones are left at the schools. Please only call during AM and PM programming hours.
---
Champions Distance Learning Plans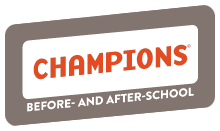 Champions Full Day Programs are located inside of Stottlemyer Early Childhood!
Open at 6:45am - 6:30pm; open non-school days too; closed holidays!
We will help facilitate an environment for student learning duringschool hours!
DHHS Families (MiBridges) – If you receive state assistance you may qualify for FREE child care. Please call or email today for more information!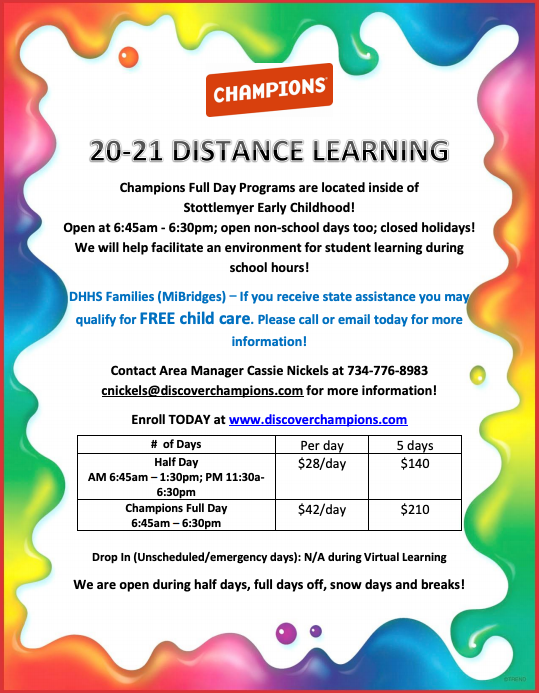 Champions Flyer
Contact Area Manager Cassie Nickels at 734-776-898
cnickels@discoverchampions.com for more information!
Enroll TODAY at www.discoverchampions.com
Drop In (Unscheduled/emergency days): N/A during Virtual Learning
We are open during half days, full days off, snow days and breaks!
Champions Fall plans
Champions Fall plans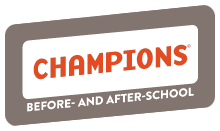 Champions will be operating in each individual Elementary School and Stevenson Middle School starting with the new school year; Tuesday 9/1.
We will be offering time in the day for students to do their virtual learning with their teachers and complete assignments daily. Champions regular before and after school programming will occur and then we will offer a mid-day option that will include time for assignments and learning to be completed.
ALL MEALS WILL BE PROVIDED TO STUDENTS THROUGHOUT THE DAY!
Options for enrolling:

Full Day option when you can drop off early and/or pick up late between 6:45am - 6:30pm(6:30am at Stevenson):
School Age programs will be $90/3 days and $135/week for 5 days ($27/day)


School Day option; drop off at 8am and pickup by 3pm
School Age programs will be $60/3 days and $100/week for 5 days ($20/day)


Early Childhood (Infants, Toddlers, Preschool) pricing will be the same and will stay at Marshall Upper Elementary during this time; 6:30am - 6:30pm.


Stottlemyer will continue to house our mid-day and full day program for our preschool kiddos there too; no price increases for this school year!!!
Enroll at your child's home school:

Click Enroll Now
Choose the students you would like to Enroll
Click continue/next
Click drop down and choose 20-21 school year
Put in your schools zip code (48188, 48184, 48185, 48186, 48141)
On the right side of the screen, choose your schools name
Enroll in the program for the school year and save your spot!!! If Full Day and School Day are not options yet do no worry! Your site teacher will call you and help with your schedule before the school year begins!!!!
Having trouble with the enrollment?
Call 1-800-246-2154 and our Customer Care team will help!!
DHHS Families
If you receive state assistance (food stamps, Medicaid), you likely would be approved for childcare assistance!!! That means the state would help pay your child care costs!
Talk to your state worker or come up to the front entrance of Marshall Upper Elementary starting next week 8/17 for the paperwork to send in! 8:30am - 4:30pm Monday - Friday
What is Champions doing to keep our children and staff safe?

Taking Temperatures upon entry as well as after lunch daily
Screening staff and students for signs and symptoms consistently from point of entry in school and throughout day
Sanitizing and disinfecting at the beginning, middle and end of the day
Smaller group size in each classroom and limited capacity
Masking up! Our teachers have been wearing masks since we returned to Marshall for care and our students are wearing masks in common areas. Students over 12 years of age will wear one in the classroom as well.
Social Distancing is a part of so much of our routine; X's on the chairs to distance the students, lines on the tables for student work spaces, assigned seating at the tables to ensure no co-use of the space, X's in the hallways and bathroom use limited to 1-2 students at a time based on the number of stalls.
Hand sanitizer in the classroom for use by the teachers and students (when hands are not visibly soiled)
And much more!