WWCS App Benefits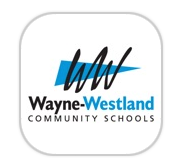 We want to provide information to our students and families in multiple, useful ways. We have added an App for that! The WWCS App gives you quick one and two tap access to your most searched for and desired content! Use the links below to download it for your iPhone and Android devices today.
Features of the App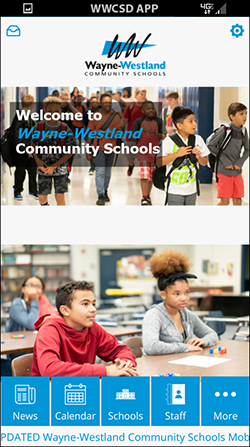 News - Quick access to the @WWCSD Facebook feed where we post daily district information.
Calendar - Subscribe to calendars for individual schools, the District or our Board of Education.
Schools - Direct links to your school website.
Staff - Use our Staff Directory to search the names of staff for their direct email link.
More... - 13 more features for you to explore.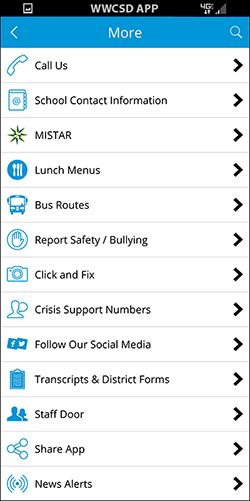 Call Us - Instant Tap to Call phone numbers for all WWCS Schools.
School Contact Information - Beyond phone calls, you can see addresses and tap to allow for GPS Directions to your desired school.
MISTAR - Quickly access the ParentConnection or StudentConnection portals.
Lunch Menus - Quick links to the lunch menus for all schools.
Bus Routes - While Bus Routes are posted via MISTAR, we provide information about the Here Comes The Bus App.
Report Safety / Bullying - Use this feature to quickly report your safety and bullying concerns. It can be used anonymously.
Click and Fix - Select your location, describe the problem, take a photo of the issue and Submit. We will take care of the rest!
Crisis Support Numbers - When you need a place to turn to talk, we have listed some helpful resources for your needs.
Follow Our Social Media - A handy list of all Social Media feeds from our schools. Find a school to follow!
Transcripts & District Forms - Some of the most searched for district forms all in one location.
Staff Door - Employee access to staff resources.
Share App - Easily share the app with friends and family so everyone can stay up to date with WWCS.
News Alerts - A quick link to the District News Alerts.
Download the App
Note: The Google play link only works via an Android device.