You have new opportunities! Check them out!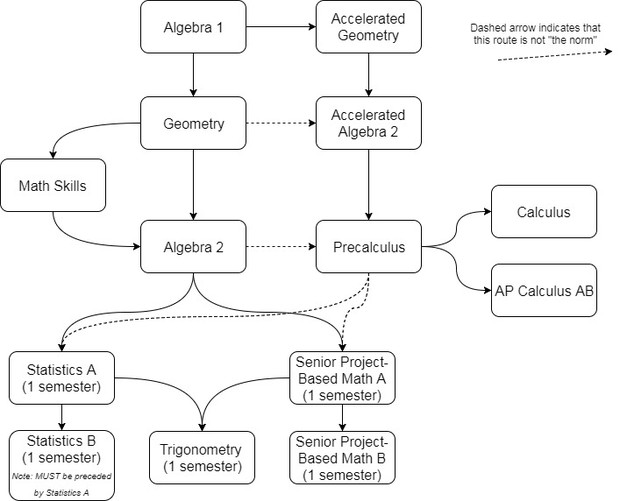 MATH SKILLS
Pump up your skills before Algebra 2! Take this class between Geometry and Algebra 2 or alongside Geometry to make sure you're all caught up on Algebra 1 skills so you'll rock out Algebra 2.
STATISTICS A
This is a one-semester introduction to Statistics. You'll get an overview of many topics, including probability, that can help you understand the real world.
STATISTICS B
Statistics B is a one-semester course that follows Statistics A (and will only be offered second semester). It completes a full year's worth of Statistics.
TRIGONOMETRY
Trig is a one-semester course. You can take it after you take Algebra 2. It covers a lot of the same stuff as Precalculus, but it's a little slower, giving you more time to soak in the material. If you take, will take, or have taken Precalculus, you shouldn't take this one, too.
PRECALCULUS
This one isn't new, but if you got an A or B in Algebra 2, you should take Precalculus afterward!
PROJECT-BASED MATH A
This is one semester of a project-based senior math class. It's very open for YOUR interests!
PROJECT-BASED MATH B
This is designed for your second semester of senior year. You'll do more project-based explorations related to your interests.