Teacher Appreciation Week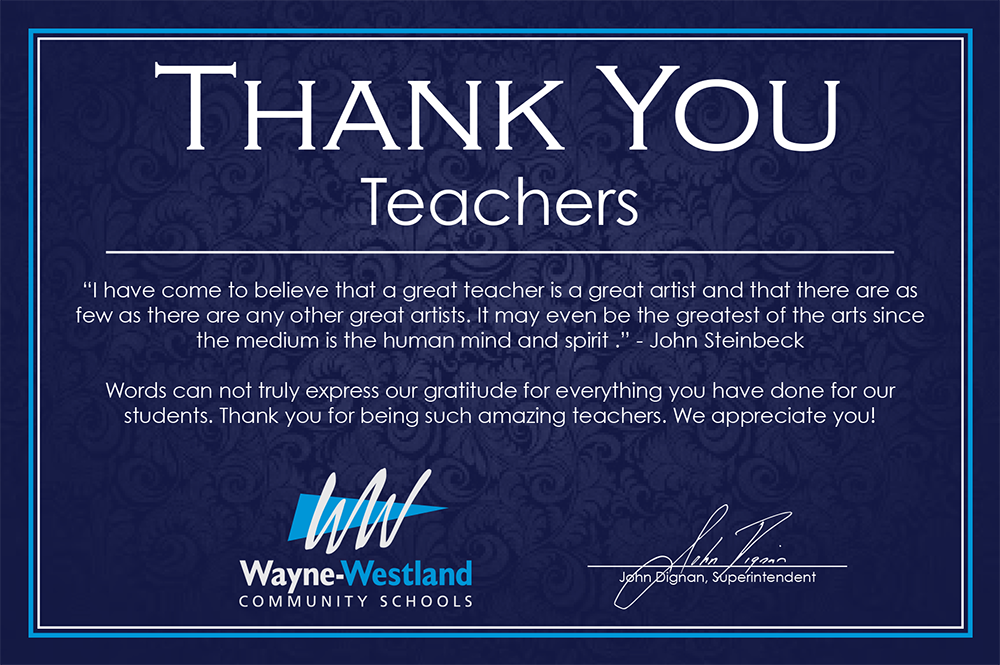 FREE TEACHER DISCOUNTS
Classroom Decor and Supplies
1. Dry Erase Boards
EVERWhite will send teachers a 6×9″ sample.
2. School Mate Sample
Receive a planner, folder, or wall calendar sample from School Mate.
3. NASA Poster
Download "Mars Explorers Wanted" posters to hang up in the classroom. Then, share a picture of it featured on your wall with #MarsPosters!
4. Barnes & Noble
Get 20% off purchases for classroom use. They also have Educator Appreciation Days, where teachers get an extra 5% off.
5. First Book
Educators who serve children in need may qualify for free books through First Book.
6. Half Price Books
In addition to their already lowered prices, librarians and homeschoolers/teachers get an extra 10% off year round.
7. Hobby Lobby
This craft store offers 10% off your full order.
8. The Container Store
In order to keep your classroom looking sharp, The Container Store offers an "Organized Teacher Discount Program," which will send you exclusive discounts throughout the year.
9. LakeShore Learning
Thanks to their "Teacher's Club," members can save an extra 15% in-store on school supplies.
10. Office Depot
When you buy school supplies at Office Depot, provide your school's ID at checkout, and your designated school will receive 5% back in credits for free supplies.
11. Oriental Trading
You can save up to 65% on teacher supplies.
12. Paper Source
Receive an extra 10% off with your educator ID and by enrolling in their Teacher Program.
13. Pencils.com
As part of their "Educator Discount Program," Pencils.com offers an extra 10% off all of your orders.
14. JOANN Fabric
After enrolling in their rewards program, teachers are able to save 15% off their purchases every day.
15. Michaels
Once your educator ID is verified, you will begin receiving 15% off every time you shop.
16. Blick Art Materials
If your school purchases large quantities of art supplies throughout the year, you can get an additional discount on the purchases.
17. Party City
You can get between 10-20% off your purchase once you provide the store with a letter, signed by an officer of your school or organization on official letterhead.
18. Set of 6″ Rulers
Rent Calculators.org provides enough rulers for each student in your classroom.
19. Cooking Supplies
Receive 30% off $100+ for Curious Chef cooking supplies for your classroom.
20. GelPro
Get 25% off your purchases of GelPro's comfort mats or rugs.
21. WellnessMats
These mats are designed to help those who are on their feet a lot of the day, and teachers are able to get 25% off their order.
22. A.C. Moore
Teachers are able to get 15% off their purchases for the classroom.
23. Chibitronics
Offering ways to learn about technology through arts and crafts, Chibitronics offers teachers 20% off their products.

Activities and Teacher Resources
24. DonorsChoose
This fundraising site (similar to "GoFundMe") allows teachers to post "classroom projects" that they would love to have in their school or room, like adding in Montessori collaborative play elements, getting new helmets for a team, having access to updated technology, etc., and then anyone is able to donate to their project request.
25. Foundation for Economic Education (FEE)
Classroom kits with 50 copies of the book of your choice are provided to teachers with class sizes of 25+. FEE also gives access to videos, podcasts, e-books and articles, focusing on economic principles and the entrepreneurial spirit.
26. Teachers Pay Teachers
This is the place to find plenty of free printables (think lesson plans, activities, spreadsheets, etc.!)
27. Teaching Tolerance
Resources for teachers such as lesson plans, self-guided learning, webinars, and more, are provided with the mission to "help teachers and schools educate children and youth to be active participants in a diverse democracy."
28. 23andMe
Besides offering free lesson plans involving genetics, 23andMe also gives educators discounts when test kits are ordered in bulk for the classroom, and has details on how to start a "Genetics Club"!
29. Scholastic Teacher Store
Every quarter, they offer new deals exclusively for educators, such as saving up to 35% off. Plenty of free printables are available as well, including bookmarks, "seek and find" worksheets, and more.
30. Discount School Supply
Up to 70% off, and they offer free activity ideas as well.
31. National School Supply
Visit their site for free printables that feature themes like the seasons, the alphabet, and all 50 states.
32. Speed Stacks
If your school is interested in starting a new sport stacking program, you can receive a complimentary Speed Stacks set.
33. National Education Association
This resource is ideal for browsing new classroom management ideas and teaching strategies.
34. Mammoth Math
Over 400 free math worksheets await—not to mention plenty of assessment tests and helpful videos.
35. Crayola
Offering free coloring sheets and DIY craft ideas, Crayola also has resources available to help teachers use art across their curriculum.
36. Izzit
This charitable organization gives teachers a free DVD of their choice each year, and offers unlimited streaming from their educational video library.
37. Grammarly
Already free, this is an excellent grammar-resource for both educators and your students.
38. Pets in the Classroom
This educational grant program supports public school teachers who desire to have aquarium fish or small pets in the classroom.
39. PBS Teachers Lounge
Educators have free access to the PBS Teachers Lounge blog, which is filled with current events in the educational world.
40. Hot Wheels Kit
Receive a fourth-grade classroom kit and Speedometry curriculum through Hot Wheels, which "encourages inquiry and real-world, problem-based learning through play, hands-on activities and in-depth lesson plans."
41. Zollipops
As part of their "Million Smiles Initiative," Zollipops (a sugar-free, vegan, natural candy) is donating this healthy candy for free to schools in order to raise awareness on childhood tooth decay.
42. Free Toothpaste and Toothbrushes
In order to teach young students about oral hygiene and health, Colgate's "Bright Smiles, Bright Futures" classroom kit sends teachers toothpaste and toothbrushes for up to 25 kindergartners or first-graders.
43. Raymond Geddes School Supplies
Browse through their freebies that include reward certificates, Dr. Seuss-themed templates, and more.
44. Little Passports
Find free printables, lesson plans, and homeschooling curriculum resources.
45. Dramatists Play Service
Educators are able to get 10% off their purchase of 20 or more copies of any DPS Acting Edition.
46. National Geographic Genographic Project
National Geographic's DNA Ancestry Kits are discounted for teachers at $140 per kit (originally $199.99) and helps students "realize that, although they may look different from one another and each have unique cultural characteristics, students are more similar to their classmates than they ever thought possible."
47. Yoobi
Besides free classroom activity sheets, Yoobi also gives you the opportunity to sign up for their e-newsletter that sends out special teacher coupons and resources.
48. Squiggle Park
A technology-based approach to increased reading, Squiggle Park offers free resources including professional development videos, printables, and lesson plans.
49. Timesavers for Teachers
When you're grading so much work that you can't possibly think of anymore creative ways to give feedback, Timesavers for Teachers' free comments collection will come in handy. They also provide free forms to help student behavior.
50. K12 School Supplies
Save up to 70% on resources like classroom posters and charts, lesson plans, and more.

Clothing and Accessories
51. Dressbarn
This store rewards teachers with an extra 15% off.
52. Primary.com
You can get 10% back for your school by having friends and family shop here.
53. Hanes
Shoppers are able to receive 10% off their purchase.
54. Belk
Every Tuesday, teachers are able to receive 15-20% off their purchase.
55. BN3TH Underwear
This men's underwear brand offers 20% off for the teaching community.
56. Bonobos
Educators receive 20% off their total.
57. Champion
Teachers receive 10% off.
58. Cole Haan
Teachers can shop full-price and sale merchandise, getting 15% off both.
59. A Pea in the Pod Maternity
A 10% off discount is given to educators.
60. DC Shoes
15% off is offered to teachers who shop here.
61. Just My Size
Educators receive 10% off their purchase.
62. Karen Kane
You can get 20% off all your purchases here as a teacher.
63. King Kong Apparel
All teachers are able to get $10 off their bags, totes, backpacks, and duffles.
64. Vineyard Vines
To share their appreciation for teachers, you can get 15% off your order.
65. Madewell
Educators receive 15% off.
66. One Hanes Place
Teachers are able to get 10% off.
67. Quicksilver
15% off is offered online to all educators.
68. Reebok
As part of their "Heroes Discount Program" (also including nurses, military personnel, first responders, and government employees), teachers get 30% off.
69. Roxy
Educators receive 15% off.
70. South Moon Under
They offer 10% off for teachers.
71. Tommy John
Teachers are able to get 20% off their purchase.
72. TOMS
All educators receive an additional 10% off.
73. Banana Republic
Teachers receive 15% off their total.
74. Overstock.com
"Club O" is a free classroom membership for teachers that offers exclusive benefits like free shipping, and rewards for purchases and reviews.
75. J.Crew
Educators who shop here receive 15% off their purchase.
76. J.Crew Factory
Teachers receive 15% off.
77. Dooney & Bourke
In the market for a name-brand bag? Educators are able to receive an additional 15% off their purchase.
78. L.L.Bean
10% off is offered for all teachers who enjoy spending some of their free time outdoors.
79. Rothy's
Educators can get select comfy and cute shoes for 20% off, which should feel great after being on your feet all day.
80. Target Teacher Prep Event
For the last two years, Target has offered teachers 15% off select items for a full week in July (last year from the 13th-20th) to help stock their classrooms—it's likely that this successful event will continue.
81. Staples
As part of Staples' "Classroom Rewards," customers can have 5% of their purchases go to a teacher or school of their choice.
82. Tommy Hilfiger
Teachers who shop here will get an extra 15% off.
83. Ann Taylor LOFT
Educators will save 15% on all purchases here.

Subscriptions, Memberships, and Trials
84. LinkedIn Learning
Receive a free 30-day, unlimited access trial.
85. Epic!
Teachers who sign up for Epic! have free and access to over 35,000 eBooks for kids for 30 days, and then the it is $5.99 each month (regularly $7.99).
86. Skillshare
Receive two free months of Skillshare Premium, and gain access to over 30,000 classes in design, business, and more.
87. Microsoft Office 365
Teachers are eligible to receive Microsoft Office for free, along with 1 TB of online storage.
88. Adobe Creative Cloud
Educators are able to get over 60% off on a subscription to Adobe Creative Cloud, which includes apps like Photoshop, Illustrator, and InDesign.
89. Headspace
This meditation app is free for teachers.
90. College Subscription Services
Already up to 90% off for magazine subscriptions, educators are eligible to receive an additional special rate by providing their school information with their order.
91. Magazines.com
While the subscriptions are already priced up 80% off, you can get another $5 off your purchase as an educator.
92. Theatre Development Fund
If you're a teacher who loves going to shows, TDF's exclusive membership allows you to buy theater, dance, and music shows at a discounted rate (up to 70%).
93. Basecamp
Free for educators and their students, this project-management tool provides resources like automatic check-ins, message boards, to-do lists, etc. to help you succeed with your projects.
94. Swagbucks
While this rewards website offers gift cards to members based on their online activity (like taking surveys, searching things in their browser, etc.), teachers can get $5 by signing up!
95. Kindle Unlimited
Receive a free 30-day trial for unlimited reading!
96. ABCmouse
This Early Learning Academy subscription (online curriculum for children 2-8 years old) is up to 49% off, but teachers have access to a free 30 day trial first.
97. Thrive Market
Teachers are able to apply for a free membership to start having organic and healthy groceries delivered to you.
98. Sunburst Superfoods
Receive 15% off your first order with "SBNEW15."
99. The New York Times
Teachers receive the special academic rate of 50% off a New York Times newspaper subscription.
100. Spotify
Educators can take advantage of getting Spotify Premium for free for three months.
101. Kiwi Crate
This subscription service has classroom science kits available, and offers discounted prices on orders in bulk of 10 or more items.
102. Audible
Along with a 30-day free trial, educators are also able to receive one free audiobook and two Audible Originals.
103. ClassCentral
Many teachers are lifelong learners themselves, which makes the free online courses offered by many top universities extra-appealing.
104. Rosetta Stone
Teachers can start with a free demo, and then receive up to 40% off.
105. The Washington Post
With their "academic rate," teachers are able to subscribe for 50% off.

Technology, Software, and Electronics
106. Academic Superstore
Purchase software that is up to 85% off.
107. Ableton
Teachers are able to save 40% on Live 10 Standard or Suite for music creation and performance.
108. Adafruit
Educators can get up to 10% off their orders on this site which features various tools, equipment, and electronics.
109. Apple
You're able to save with Apple's "education pricing" on various Mac and iPad models.
110. AT&T
Receive additional discounts after providing your school email address.
111. Bose
Special prices are available for U.S. educators after contacting Bose's customer service.
112. Canon
There are exclusive deals offered to educators in both K-12 and higher education settings.
113. Lenovo
Up to 10% off on electronics, like laptops and desktops.
114. Cyberlink
Teachers get 40% off this video-editing software, and receive access to an ever-growing library of digital assets.
115. Final Draft
Save $50 on this screenwriting software.
116. Verizon Wireless
Educators are eligible to receive extra monthly discounts on their bill.
117. Intuit Quickbooks
Try a 30-day free trial, and then teachers additionally receive free online QuickBooks, ProConnect software, and discounted QuickBooks Desktop products.
118. Samsung
Save as much as 30% by joining the "Samsung Student & Educator Discount Program."
119. Sprint
As part of their "Sprint Perks for Educators," teachers are able to get a value of $875/line each year.
120. ABBYY
Receive up to 30% off software products like Finereader, PDF transformer, and more.
121. GameSalad
Teachers are able to get 50% off a GameSalad Pro annual subscription, or 70-90% off the retail cost of a multi-seat licensing for the entire classroom.
122. Photomatix
HDRsoft's "Standard Academic Pricing" is 60% off for this photo editing software.
123. IDM
All IDM products (and their all-access subscription) are available at 50% off for teachers.
124. Roxio
Roxio software is offered for teachers at a 20% discount.
125. iRobot
Teachers can apply for special pricing on a Create 2 Programmable Robot (normally $199.99).
126. Sennheiser
Headphones, microphones, soundbars, and more, are offered at 20% off for teachers.
127. Smartish
Phone cases are discounted at 15% for teachers.
128. Targus
Educators can get 25% off these laptop bags, tablet cases, docking stations, and more.
129. Ring.com
Educators are able to receive 20% off select Ring doorbells, spotlight options, and other various products.

Home Loans
130. Supreme Lending
The "Educator Home Mortgage Discount Program" offers up to $800 in discounted real estate fees and closing costs. Customers can also receive donations back to your school.
131. Good Neighbor Next Door
Eligible teachers could get 50% off a home in a "revitalization area" owned by the U.S. Department of Housing and Urban Development.
132. Homes for Heroes
Save money on your home-buying process when you work with a Homes for Heroes affiliate.

Cars
133. Country Financial
Full-time K-12 teachers can save 10% off on their auto insurance.
134. Geico
Educators may be eligible for a special auto insurance discount or premium reduction.
135. Horace Mann Insurance
Their "Educator Advantage" offers teachers additional benefits with their auto policies.
136. Liberty Mutual Insurance
Teachers receive extra auto insurance coverage at no cost, such as vandalism loss protection, personal property coverage, etc.
137. Hertz
National Education Association (NEA) members are able to save up to 25% on their car rental.
138. Dollar Car Rental
NEA members receive 5% off the car rental base rates.
139. E-Z Rent a Car
Teachers and all school employees get 10% off their car rental.
140. Ford
If your school is affiliated with Ford's Educator Appreciation Program, you can get a $1,000 discount (not including other possible rebates and bonuses with your purchase).
141. General Motors
The "GM Educator Discount" allows teachers to purchase or lease a Chevrolet, Buick, GMC, or Cadillac vehicle at a discount, and can be combined with other dealership offers at the time.
142. Budget Truck Rental
20% off is offered to teachers on any local moves, any day of the week.

Travel
143. MSC Cruises
Up to 10% savings are offered to teachers who book on select sailings.
144. Vacations To Go
Every so often, cruises will offer special teacher discounts to Vacations To Go customers.
145. Hilton Orlando
Their "Special Teacher Appreciation Rate" includes a daily $50 resort credit, 15% off at hotel restaurants, and more.
146. Caesars Entertainment
Up to 45% off is being offered at Caesars Entertainment hotels across the U.S.
147. Kennedy Space Center
The "Educator Study Pass" offers Florida, Georgie, Puerto Rico and U.S. Virgin Islands teachers complimentary access to Kennedy Space Center's Educator Resource Center.
148. Swan and Dolphin Resort at Walt Disney World
A special room rate is offered to teachers who stay at this resort.
149. Westgate Resorts
Educators and school personnel are able to receive 10% off their stay at any Westgate Resort.
150. Howard Johnson
This hotel chain offers teachers their "Government Discount" option when booking.
151. Contiki
Teachers can receive $75 off any Contiki trip that lasts seven days or more.
152. Crayola Experience Orlando
All educators get free admission to the Crayola Experience.
153. Red Roof
NEA members save 20% when they book at Red Roof.
154. Mermaid Cottages
Educators are able to get 5% off their stay in Tybee Island, Georgia.
More Teacher Discounts
155. E-Z UP
Teachers receive 30% off their purchase of any "Instant Shelter" product for the beach, sporting events, and other outdoor activities.
156. Costco
By becoming a Costco member, teachers are able to get over $60 in savings.
157. Medex Supply
Teachers who order in bulk can receive additional discounts on already-discounted medical supplies.
158. Enfamil
Educators get 10% off on formula and more online at the Enfamil Shop.
159. Texas de Brazil
This restaurant's "Heroes' Discount" offers a 20% discount on their dinner and lunch prices across the U.S..
160. PureFormulas
The teacher discount is 10% off at this health and supplement website.
161. Weight Crafters
Discounted rates are available for educators who book one of their fitness retreat programs in Florida.