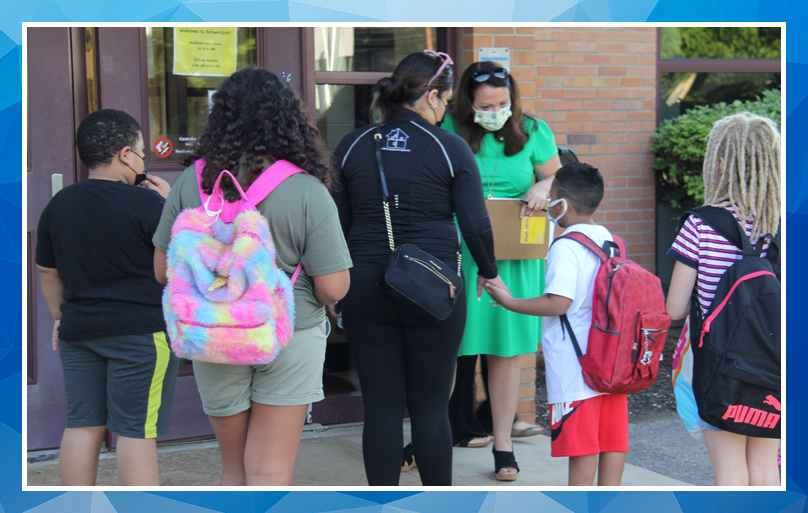 Calendar

Previous

December

2021

Next

S
M
T
W
T
F
S
1
2

Dec 2

2:00 PM to 3:30 PM

Gleaners Mobile Food Pantry

Location:

Adams Middle School, 33475 Palmer Road, Westland, MI 48186

Calendar:

District Calendar

Anyone in need of food is encouraged to attend and receive 30 pounds of nutritious groceries, like milk, fresh fruits, vegetables, lean protein and other shelf-stable items. No appointment is needed.

3
4

Dec 4

9:00 AM to 12:00 PM

Elementary Girls Basketball

Location:

Franklin Middle School

Calendar:

District Calendar

5
6
7

Dec 7

Half Day (K-5 Students Only)

Calendar:

District Calendar

8
9

Dec 9

Half Day (K-5 Students Only)

Calendar:

District Calendar

10
11

Dec 11

9:00 AM to 12:00 PM

Elementary Girls Basketball

Location:

Franklin Middle School

Calendar:

District Calendar

12
13

Dec 13

7:00 PM to 8:00 PM

Regular Meeting

Calendar:

District Calendar

14
15
16

Dec 16

2:00 PM to 3:30 PM

Gleaners Mobile Food Pantry

Location:

Adams Middle School, 33475 Palmer Road, Westland, MI 48186

Calendar:

District Calendar

Anyone in need of food is encouraged to attend and receive 30 pounds of nutritious groceries, like milk, fresh fruits, vegetables, lean protein and other shelf-stable items. No appointment is needed.

17

Dec 17

9:30 AM to 11:00 AM

Gleaners Mobile Food Pantry

Location:

Hicks Elementary School, 100 Helen, Inkster, MI 48141

Calendar:

District Calendar

Anyone in need of food is encouraged to attend and receive 30 pounds of nutritious groceries, like milk, fresh fruits, vegetables, lean protein and other shelf-stable items. No appointment is needed.

18

Dec 18

9:00 AM to 12:00 PM

Elementary Girls Basketball

Location:

Franklin Middle School

Calendar:

District Calendar

19
20

Dec 20

Winter Recess - No School

Calendar:

District Calendar

21

Dec 21

Winter Recess - No School

Calendar:

District Calendar

22

Dec 22

Winter Recess - No School

Calendar:

District Calendar

23

Dec 23

Winter Recess - No School

Calendar:

District Calendar

24

Dec 24

Winter Recess - No School

Calendar:

District Calendar

25
26
27

Dec 27

Winter Recess - No School

Calendar:

District Calendar

28

Dec 28

Winter Recess - No School

Calendar:

District Calendar

29

Dec 29

Winter Recess - No School

Calendar:

District Calendar

30

Dec 30

Winter Recess - No School

Calendar:

District Calendar

31

Dec 31

Winter Recess - No School

Calendar:

District Calendar
Upcoming District Events

Half Day (K-5 Students Only)

Calendar:

District Calendar

Half Day (K-5 Students Only)

Calendar:

District Calendar

Elementary Girls Basketball

Time:

9:00 AM to 12:00 PM

Location:

Franklin Middle School

Calendar:

District Calendar

Regular Meeting

Calendar:

District Calendar

Gleaners Mobile Food Pantry

Location:

Adams Middle School, 33475 Palmer Road, Westland, MI 48186

Calendar:

District Calendar

Anyone in need of food is encouraged to attend and receive 30 pounds of nutritious groceries, like milk, fresh fruits, vegetables, lean protein and other shelf-stable items. No appointment is needed.
November 30, 2021
Letter to WWCS Staff and Families
Dear Wayne-Westland Staff and Families,
We are deeply saddened by the tragic news today from Oxford High School. As educators and as parents, it is difficult to comprehend such catastrophic events. We feel closely connected to the students, staff, families, and community devastated by this loss of innocent lives.
We know this may affect our students. Because it is difficult to predict how anyone will react to a traumatic event, the best we can do is be supportive and responsive to our students and their varied responses. Some students will have no reaction; some will be upset or anxious to some degree. Some may not have heard of the event, and others will have been immersed in the coverage on TV.
For those students who are having significant reactions to this event, we have mental health community partners available to provide support. Please contact one of the following:

I want to reassure you that the safety and security of our students and staff are our top priority. We have clear plans and procedures to deal with emergencies that may arise in our schools. Parents, please encourage your child to tell a trusted adult or use OK2SAY (8-555-OK2SAY) if they see or hear something happening in their school.
Please continue to keep the community of Oxford in your thoughts and prayers. Thank you.
Sincerely,
John Dignan, Ed.D.
Superintendent
November 22, 2021
Letter to WWCS Students, Families and Staff
Good Evening Wayne-Westland Community School Students, Staff, and Families,
As a reminder: On Wednesday, November 24, 2021, all students in Wayne-Westland Community Schools have a half-day of instruction in the morning. Students will attend school virtually on this day (a.m. only). Students will NOT report to their school building. Students will attend class remotely and work on assignments provided by their teachers.
We need to keep the option to use virtual learning in the event of an outbreak or other health emergency. We will "go virtual" on Wednesday morning to see how well all students and staff can shift to online learning and teaching right after being face to face. We can then look and see how we can further support how we pivot to online learning in case of a public health event or other emergency.
School will resume in-person instruction on Monday, November 29, 2021.
The Champions program will run as scheduled at all school locations on Wednesday, November 24. Champions will be closed November 25-26, and will reopen on Monday, November 29, 2021.
COVID-19 Vaccine Available
The Beaumont Adams Child & Adolescent Health Center located inside Adams Middle School offers the vaccine for students over five years of age. Please call (734) 728-2423 to make an appointment. The vaccine is free.
Now Hiring
Wayne-Westland Community Schools is hiring for several positions, including paraprofessionals, food service, custodians, bus drivers, and teachers. We are hosting Virtual Job Forums from 1-2 pm on Tuesday through November 23. If you or someone you know is interested in a job, please join one of the forums for more information. This week, we are highlighting our open secondary math and science teaching positions. For these positions we offer:
Experience honored
Full benefits
Attendance bonus
Additional compensation opportunities
Mentoring program
Weekly Flyers
Here is the link to the weekly flyers from our community partners. Have a wonderful week.
Annual School Grades Report
The Michigan Department of Education (MDE) released its annual School Grades Report. In 2018, Public Act 601 was passed, requiring the MDE to create a school grading system that annually assigns each public school in Michigan individual letter grades for five areas: student proficiency, student growth, graduation rate, performance among peers, and English learner progress. Schools will also receive a ranking in the following three categories: attendance, assessment participation, and student subgroup comparison to the state.
School Grades Reports are based partly on results from the spring 2021 state assessments. Statewide participation in assessments was lower than usual, with only ~72% of Michigan students and ~50% of Wayne County students participating; therefore, these grades, in most cases, do not provide an accurate reflection of performance. Overall, student participation in our statewide assessment participation rate for Wayne-Westland was just over 59%.
Families and community members can find information on each school's grades and rankings by visiting: https://www.mischooldata.org/. Once at the website, select the tab "K-12 Grade" > "Accountability" > "School Grades." From there, you can choose a school from the dropdown menus. If you have any questions about the School Grades Report, please do not hesitate to contact my office at 734-419-2010.
With the holiday season upon us and as Michigan is experiencing a spike in the number of COVID-19 cases, I wanted to share a reminder about the importance of practicing safe habits while celebrating with your family and friends. This includes social distancing, wearing masks in group settings and frequently washing your hands. As you might already be aware, COVID-19 cases are on the rise again in Wayne County, with a reported uptick in hospitalizations and quarantines. We know that children learn best in the classroom, so it's important we work together to keep students and staff safe and limit the disruption to in-person learning. To that end, we have COVID-19 safety measures in place, including:
Required masks for all students, staff and visitors in a District building
Social distancing measures where possible
Sanitizing measures include daily cleaning and disinfection of all high-touch surfaces.
When we do have a positive COVID-19 case in your child's classroom, you will receive a communication. If your child is experiencing COVID-19 symptoms, I encourage you to report the incident to your school principal. Thank you for your continued trust and support when it comes to the health and wellness of our Wayne-Westland School Community. If you have any questions, please contact your school's administrative office.
On behalf of the Wayne-Westland Community Schools, I'd like to wish you and your family a safe and happy Thanksgiving. As always, we are dedicated to ensuring our students have the resources they need to thrive. Thank you for your commitment to our schools and serving as a partner in your child's education.
Sincerely,
John Dignan, Ed.D.
Superintendent
November 11, 2021
School Spirit Night with the Detroit Red Wings

Wayne-Westland Community Schools has partnered with the Detroit Red Wings to bring a great opportunity to our students.
January 13, 2022, will be Wayne-Westland Community Schools Night at Little Caesars Arena. Families, staff and community members can purchase tickets to this game and $5 of the proceeds will go to the Wayne-Westland school of your choosing. If a school sells more than 100 tickets, they will get to have a post-game photo on the ice.
November 10, 2021
Be a Buddy Week
Dear Wayne-Westland Families,
November 13, 2021, is World Kindness Day. Wayne-Westland Community Schools has designated November 15-19 as Be a Buddy Week. All elementary schools will participate in various activities in recognition of Bully Prevention and encourage students to show kindness and compassion to each other.
The schools are planning a week-long spirit week with the following themes
Monday : Put bullying to bed- pajama day
Tuesday : Keep the Peace Day- Wear Tie Dye
Wednesday : Team Up to Be a Buddy- wear sports gear
Thursday : It's Ok to Be Different- bright colors and fun socks
Friday : Blue to Be a Buddy- wear blue
Other activities students will participate in this week include
Learning the difference between being a bully and being a buddy
Showing compassion
Problem-solving when others are being unkind
Celebrating differences
Creating a supportive school environment is critical to enhancing student learning and relationships. If you have any questions, please reach out to your student's principal or the school social worker.
Website Accessibility
Website Accessibility Policy
Wayne-Westland Community Schools ("District") is committed to ensuring accessibility of its website for students, parents, employees, and members of the public. All pages on the District's website will conform to the W3C WAI's Web Content Accessibility Guidelines (WCAG) 2.0, Level AA conformance, or updated equivalents of those guidelines. The District will continue to test future releases/updates of its website and remains committed to maintaining its compliance and serving the widest possible audience. To this end, the District will perform periodic accessibility audits of its website.

Please report any concerns on the Accessibility Concerns page.

Web Accessibility Coordinator:
Scott Mastenbrook
734 419-2009
MastenbrookS@wwcsd.net