Employment
Welcome
Thank you for your interest in employment opportunities with the Wayne-Westland Community Schools.
Review our Open Positions, start an application for employment, or continue and/or modify an application for employment (We do not accept paper applications.) in the links below.
Online applications are kept on file for one year. Additional information may be obtained by calling:
Human Resources Department at (734) 419-2032

Employment Opportunities
Internal & external applicants

Open Positions


Submit an application/transfer form


Continue/modify my application for employment


Use passcodes sent to me


Request technical help
Retired
WWCSD

Substitute Teacher

Open Positions
Equal Opportunity Employer
The Wayne-Westland Community Schools is an Equal Opportunity Employer. It is the policy of the Wayne-Westland Community Schools Board of Education to prohibit any acts of unlawful discrimination in all matters dealing with students, employees or applicants for employment. The Wayne-Westland Schools reaffirms its policy of equal educational and employment opportunities for all persons without regard to race, color, gender, religion, age, height, weight, marital status or disability which is unrelated to an individual's qualifications for employment or promotion, or which is unrelated to an individual's ability to utilize and benefit from the School District's services, activities, benefits, privileges or programs. Inquiries concerning the application of Title VI, Title IX, Section 504 and Title II legislation should be directed to the Executive Director of Student and Legal Affairs, Wayne-Westland Community Schools, 36745 Marquette, Westland, MI 48185 (734-419-2083).

Non- discrimination policy and equal opportunity
A Little About Wayne-Westland Community Schools
Wayne-Westland Community Schools is proud to provide the best educational opportunities for our 9,500 students from Westland, Wayne, Canton, Dearborn Heights, Inkster, and Romulus. The Wayne-Westland Community Schools has an early childhood center that serves children from birth to age five, ten elementary schools (K-5), three middle schools (6-8), two high schools (9-12), an online virtual learning program (1-12), an innovative academy (9-12), and an ultra-modern facility for career-technical training.
The District promotes high expectations for success and provides students with a safe, caring, and nurturing environment. Wayne-Westland students develop the character, confidence, and values needed to become productive citizens in a global marketplace.
Extraordinary results occur when schools and communities work together. Wayne-Westland assures every student a high-quality education and a jump-start on career and college futures.
The District offers a Young 5s program for kindergarten eligible students. We have a K-8 STEM lab to inspire students with hands-on learning activities. Advanced classes are available for 6-12 grade students. Our middle school students can earn high school credits and our high school students can choose both advanced placement classes and earn direct college credit for free.
We also have a virtual 1-12 school called which offers a flexible schedule for students to complete their courses online with Wayne-Westland teachers.
Our award-winning Career-Technical Center offers 21 programs to high school students including Emergency Medical Technician, Firefighting, Health Occupations, Game Design and Programming, Construction Technology, Culinary Arts, and Sports Medicine and Exercise Science.
Substitute Teaching Information
Wayne-Westland Community Schools has contracted with EduStaff to employ our substitute teachers, secretaries, and paraprofessionals for the upcoming school year.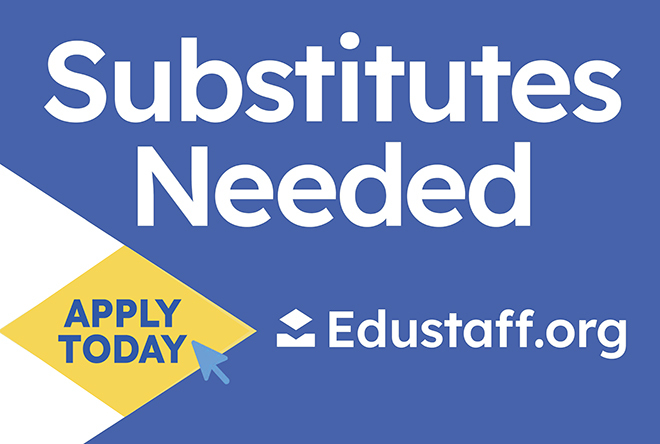 Interested in working as a Substitute Teacher?
Please apply using the following instructions:

Go to the EduStaff Website
In the top left-hand corner, click "Start Application"
Complete the online application
Questions or concerns? Call EDUStaff at 877-974-6338