Welcome To

William D. Ford

Career-Technical Center
Mission Statement
We, the William D. Ford Career-Technical Center staff, will prepare our students with the knowledge, technological proficiency, and personal skills essential for success in an increasingly complex society.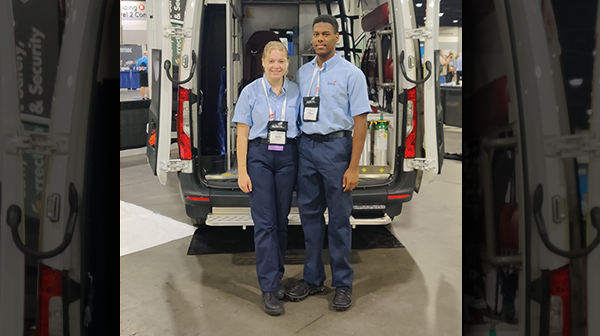 July 12, 2022
Emergency Response Demonstration for SkillsUSA
Please congratulate Andrea Hayes and Jon Harris for taking 9th place in the nation for the Emergency Medical Technician Demonstration for SkillsUSA in Atlanta, Georgia this past week.  They did a fantastic job and strongly represented William D. Ford Career Technical Center, as well as Wayne-Westland Community Schools.
March 24, 2022
WWCS Congratulates Morgan Granger - National Medal Award Winner - Scholastic Art and Writing Awards

Hi everyone - I have more great news coming from Media Production over here at WDFCTC! 
As you may remember, we had seven pieces awarded at the Gold Key level this year in the regional Scholastic Awards, which put them up for national judging in NYC. 
In a lightning strike move, senior Morgan Granger won a Silver Medal for her piece Dream World 6 in the national level of the Scholastic Art and Writing Awards!!
I have attached her image below, along with a copy of the award letter to me from Scholastic for more information. This is an insane accomplishment and places Morgan in the top 1% of all students that submitted to Scholastic this year - over 100,000 students submitted more than 260,000 pieces and hers was chosen among the final 2,000. 
Major players in the art world have won at this level, including Andy Warhol, Richard Avedon, and Stephen King. I know we're all so proud that Morgan is on a similar path of greatness!
Mara Magyarosi-Laytner, BFA, MA
Media Productions Instructor

Official Letter of Award
January 31, 2022
Severe Weather Procedures
Severe weather is expected in our area later this week so we want to share the process and factors the District uses when determining a weather-related school closing. The decision to close school due to inclement weather is not an easy one. We know that it is best for students to be in class, but we can't control the weather. Our priority is the safety of our students and staff.

More details about our Inclement Weather Procedures
Points of Pride

Annual School-Wide Writing Program
Anti-Bullying Policy Adopted
Student Mentorship Program
16 Community Outreach Programs/Events
11 Regional HOSA winners. 45 Regional HOSA finalists.
More than $165,000.00 awarded in Career Technical specific scholarships.
Four First Place winners in various Welding competitions.
IVD team took Best in Presentation at the Masters of Mobility competition
Three students recognized for the State of Michigan Breaking Traditions award, with one receiving the Merit Award for Excellence.
Sixth consecutive year as a Green School maintaining Evergreen status.
Contact Us
William D. Ford Career-Technical Center
36455 Marquette
Westland, MI 48185



Phone: 734-419-2100
Fax: 734-419-2069
Office Hours
7:00 am - 3:00 pm
William D. Ford Calendar
William D. Ford Calendar

Previous

August

2022

Next

S
M
T
W
T
F
S
1
2
3
4
5
6
7
8
9
10
11
12
13
14
15
16
17
18
19
20

Aug 20

Back To School Fair - at JGHS

Location:

John Glenn High School

Calendar:

William D. Ford Career Technical Center

21
22
23
24
25
26
27
28
29

Aug 29

First Day of School

Location:

36455 Marquette Westland 48185

Calendar:

William D. Ford Career Technical Center

30
31
Back To School Fair - at JGHS

Location:

John Glenn High School

Calendar:

William D. Ford Career Technical Center

First Day of School

Location:

36455 Marquette Westland 48185

Calendar:

William D. Ford Career Technical Center

Labor Day Recess - No School

Calendar:

William D. Ford Career Technical Center

Professional Development - No School

Calendar:

William D. Ford Career Technical Center

WMHS Homecoming Parade and Game

Calendar:

William D. Ford Career Technical Center
Website Accessibility
Website Accessibility Policy
Wayne-Westland Community Schools ("District") is committed to ensuring accessibility of its website for students, parents, employees, and members of the public. All pages on the District's website will conform to the W3C WAI's Web Content Accessibility Guidelines (WCAG) 2.0, Level AA conformance, or updated equivalents of those guidelines. The District will continue to test future releases/updates of its website and remains committed to maintaining its compliance and serving the widest possible audience. To this end, the District will perform periodic accessibility audits of its website.

Please report any concerns on the Accessibility Concerns page.

Web Accessibility Coordinator:
Scott Mastenbrook
734 419-2009
MastenbrookS@wwcsd.net