Welcome To

Elliott Elementary
Enroll Today!
Ready to Enroll?
Visit our Enroll Today page now for information on the Enrollment Process, What Schools your Child/ren will attend, What to Bring, as well as other important information and enrollment Quick Links.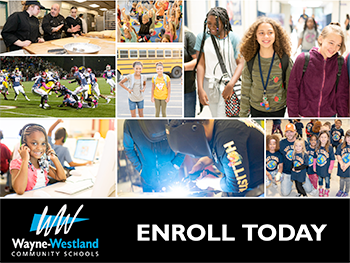 Mission Statement
Mission Statement
The Elliott Community will strive to instill character values and hold high expectations. We are committed to being a place where kids love learning, become leaders, and prepare for life.
Elliott Resources
Elliott Elementary Forms, Documents & Links

Annual Education Reports


Elliott Boundary Map


EMU Bright Futures - Elliott


Parent Handbook


School Improvement Plan
Important Forms, Documents & Links
WWCS

Forms, Documents & Links

Bus Transportation Routes - MISTAR


Bus Transportation Forms & Information


Champions Before & After School


District Handbook


Elementary Points of Pride


First Weeks of School Handbook


Meal Magic Family Portal


Non-Discrimination Policy


PaySchools


Update Registration for Current Students


Volunteer Information & ICHAT Form
Points of Pride
Points of Pride

Our amazing staff always goes above and beyond for our students and their families.
Service Learning and Civic Engagement Collaboration with Schoolcraft College Child and Family Services Department. They provide assistance in the classroom, assistance and prizes at events, a fall festival, clothing, school supplies, and monthly attendance prize baskets.
Parent PRIDE group organized activities for students and their families including Boo Bash, Popcorn Days, Someone Special/Daddy/Daughter Dance, Someone Special/Mother/Son Night, and the Last Blast Fun Night.
Elliott has an official Facebook Page.
Increase in NWEA scores for math, reading, and science.
Elliott completed our third year with Leader in Me.
Student Lighthouse Team organized a Fun Run and money raised will be donated to the Family Resource Center and the Humane Society.
Archery club for fourth graders called the "Scallywag Arr-chers"
After-school floor hockey and basketball.
---
November 11, 2021
School Spirit Night with the Detroit Red Wings

Wayne-Westland Community Schools has partnered with the Detroit Red Wings to bring a great opportunity to our students.
January 13, 2022, will be Wayne-Westland Community Schools Night at Little Caesars Arena. Families, staff and community members can purchase tickets to this game and $5 of the proceeds will go to the Wayne-Westland school of your choosing. If a school sells more than 100 tickets, they will get to have a post-game photo on the ice.
November 10, 2021
Be a Buddy Week
Dear Wayne-Westland Families,
November 13, 2021, is World Kindness Day. Wayne-Westland Community Schools has designated November 15-19 as Be a Buddy Week. All elementary schools will participate in various activities in recognition of Bully Prevention and encourage students to show kindness and compassion to each other.
The schools are planning a week-long spirit week with the following themes
Monday : Put bullying to bed- pajama day
Tuesday : Keep the Peace Day- Wear Tie Dye
Wednesday : Team Up to Be a Buddy- wear sports gear
Thursday : It's Ok to Be Different- bright colors and fun socks
Friday : Blue to Be a Buddy- wear blue
Other activities students will participate in this week include
Learning the difference between being a bully and being a buddy
Showing compassion
Problem-solving when others are being unkind
Celebrating differences
Creating a supportive school environment is critical to enhancing student learning and relationships. If you have any questions, please reach out to your student's principal or the school social worker.
September 8, 2021
Letter to WWCS Families and Staff
Good Evening Wayne-Westland Community School Students, Staff, and Families,
What a great first week of school! This was one of the smoothest starts of the year that I can remember. Our students were able to open lockers, find their classrooms, navigate the technology, and acclimate themselves to what is going to be a great year. I want to thank all of you for your support and guidance.
Also, I want to inform you that we received reports of positive COVID-19 cases involving individuals connected with some of our schools. Those students who were in direct contact with any individuals were notified by our staff and are in quarantine. The purpose of this note is to ensure transparency with our entire school community by sharing information about a COVID-19 case involving an individual who was recently in one of our buildings.
We continue to work closely with the Wayne County Health Department, which will follow its protocols and communicate directly with those who may have been impacted. To protect the confidentiality, we do not release names in any COVID-19-related case. I appreciate your understanding and ask that you respect the privacy of those impacted. Wayne-Westland Community Schools' response procedures for cleaning and disinfecting are being followed.
We all must continue to partner for the health and safety of students, families, and staff. Please take all steps to mitigate the spread of COVID-19. These activities include self-screening and keeping your child at home if they do not feel well, using personal protective equipment, distancing where practicable, and frequent hand washing.
Have a wonderful week.
Sincerely,
John Dignan, Ed.D.
Superintendent
August 30, 2021
Letter to Wayne-Westland Community School Students, Staff, and Families
Good Evening Wayne-Westland Community School Students, Staff, and Families,
It was a great day as we welcomed our students and staff back for the 2021-22 school year. Thank you to all of you who worked so hard to prepare our students to come back to the classroom. I had the honor and privilege of visiting many of our schools and the excitement was contagious as our students and staff entered their classrooms. Our entire staff is doing such an amazing job helping our students transition back to in-person learning. Although we are returning with the hope of normalcy, we are continuing with many safety and security protocols. 
So, today, I come to you to ask you to continue to help us. Remember the three W's: 
Wash your hands
Wear that mask, and
When sick, stay home.
We still need to remain informed about household illnesses, positive COVID-19 cases, and exposures. Please contact your school's main office to report any information. Immediate communication will allow us to maintain a safe and healthy environment. As always, please keep your child home if they are sick AND keep them home if someone else in your household is sick. The safety of our students and staff remains our number one priority.
Once again, thank you for all of your hard work and dedication. You are truly appreciated. Let's continue our partnership to make the 2021-22 school year the best it can be! For more information, visit the Welcome Back to School section of our website. We hope everyone has a wonderful week.

Sincerely,
John Dignan, Ed.D.
Superintendent
August 29, 2021
Welcome Back Letter to all Wayne-Westland Community School Students, Staff, and Families
Good Evening Wayne-Westland Community School Students, Staff, and Families,
The beginning of a new school year is always exciting. Tomorrow is going to be a great day! To see our students back in class, learning, participating, and interacting with their peers and teachers will be very exciting. We know there will be some challenges as everyone adjusts to their school schedule, different classrooms, or different schools, but we are one team in Wayne-Westland Community Schools and we will rise to the challenge together. Here is some information that can help our students and staff prepare for the new school year.
Warm Weather
It is always warm at the beginning of the school year and many of our buildings do not have air conditioning. We realize that an additional factor is that students and staff will also wear masks this year. The weather is supposed to cool down this week but we could have warm days during the fall. Our schools and maintenance and operations staff have plans in place that they use every year, to help students and staff combat the heat. This includes;
Limiting outdoor activities and making sure shade is available when outdoors.
Limiting the use of heat generating equipment in classrooms.
Running univents overnight to help pre-cool the rooms naturally.
Encouraging students and staff to wear lightweight clothing.
Bring water to drink during the day. Proper hydration can help to reduce core body temperature.
NOTE: When the five year Bond construction is complete, all schools will have air conditioning.
Bond Construction Schedule
New this year is the Bond construction that is underway at John Glenn and Wayne Memorial High Schools. These projects are part of a five year construction program and the projects are proceeding as planned. Wayne Memorial High School construction is scheduled to be completed by June 2022 and John Glenn High School construction is scheduled to be completed by September 2022. Construction zones have been separated from student areas and our maintenance and operations staff have worked diligently to prepare the classrooms and common areas for the return of students and staff.
Having our students back in the school full time will be an adjustment for all so let's continue our partnership to make the 2021-22 school year the best it can be for our students! We must always be one Wayne-Westland Community Schools because Great Futures Start Right Here. For more information, visit the Welcome Back to School section of our website.
Sincerely,
John Dignan, Ed.D.
Superintendent


2021-2022 In Person Updates


2021 In-Person Learning
Parent Handbook


Commitment to Safety Vids


Covid-19 Screening Tool
for Families


Visit Our OK2SAY Page

Contact Us
Elliott Elementary
30800 Bennington
Westland, MI 48186



Phone: 734-419-2610
Fax: 734-595-2430
Attendance Line: 734-419-2611
Student Hours
Full Day: 8:30 am - 3:20 pm
AM Half Day: 8:30 am - 11:40 am
Elliott Calendar
Elliott Calendar

Previous

December

2021

Next

S
M
T
W
T
F
S
1
2
3
4

Dec 4

9:00 AM to 10:00 AM

Girls Basketball Game

Location:

Franklin Middle School, 33555 Annapolis St, Wayne, MI 48184, USA

Calendar:

Elliott External

5
6
7

Dec 7

K-5 PM No School - Conferences

Calendar:

Elliott External

3:30 PM to 4:30 PM

Girls Basketball Practice

Calendar:

Elliott External

8
9

Dec 9

K-5 PM No School - Conferences

Calendar:

Elliott External

10
11

Dec 11

12:00 PM to 1:00 PM

Girls Basketball Game

Location:

Franklin Middle School, 33555 Annapolis St, Wayne, MI 48184, USA

Calendar:

Elliott External

12
13
14

Dec 14

3:30 PM to 4:30 PM

Girls Basketball Practice

Calendar:

Elliott External

15
16
17
18

Dec 18

12:00 PM to 1:00 PM

Girls Basketball Game

Location:

Franklin Middle School, 33555 Annapolis St, Wayne, MI 48184, USA

Calendar:

Elliott External

19
20

Dec 20

K-12 No School - Winter Recess

Calendar:

Elliott External

21

Dec 21

K-12 No School - Winter Recess

Calendar:

Elliott External

22

Dec 22

K-12 No School - Winter Recess

Calendar:

Elliott External

23

Dec 23

K-12 No School - Winter Recess

Calendar:

Elliott External

24

Dec 24

K-12 No School - Winter Recess

Calendar:

Elliott External

25

Dec 25

K-12 No School - Winter Recess

Calendar:

Elliott External

26

Dec 26

K-12 No School - Winter Recess

Calendar:

Elliott External

27

Dec 27

K-12 No School - Winter Recess

Calendar:

Elliott External

28

Dec 28

K-12 No School - Winter Recess

Calendar:

Elliott External

29

Dec 29

K-12 No School - Winter Recess

Calendar:

Elliott External

30

Dec 30

K-12 No School - Winter Recess

Calendar:

Elliott External

31

Dec 31

K-12 No School - Winter Recess

Calendar:

Elliott External
Website Accessibility
Website Accessibility Policy
Wayne-Westland Community Schools ("District") is committed to ensuring accessibility of its website for students, parents, employees, and members of the public. All pages on the District's website will conform to the W3C WAI's Web Content Accessibility Guidelines (WCAG) 2.0, Level AA conformance, or updated equivalents of those guidelines. The District will continue to test future releases/updates of its website and remains committed to maintaining its compliance and serving the widest possible audience. To this end, the District will perform periodic accessibility audits of its website.

Please report any concerns on the Accessibility Concerns page.

Web Accessibility Coordinator:
Scott Mastenbrook
734 419-2009
MastenbrookS@wwcsd.net