OK2SAY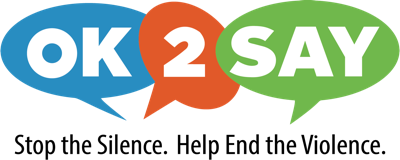 OK2SAY is the student safety program which allows students to confidentially report tips on potential harm or criminal activities directed at school students, school employees, and schools. OK2SAY is a nationally recognized program giving students the tools to set up and speak out when they are concerned about their safety or the safety of another.
Use OK2SAY to report tips related to:
Bullying / Cyberbullying
Self-Harm
Anxiety, Stress and Depression
Suicide
Drug / Alcohol Abuse
Weapon Possession
Assault
And Other Concerns
Tips can be submitted 24-hours-a-day, 7-days-a-week by telephone, text message, email, mobile app, or via the OK2SAY website.
OK2Say Resources

OK2SAY Website


OK2SAY FAQ Page


OK2SAY Resources for Parents & Students
There are several convenient options for reporting a tip. You may click the Submit A Tip button above or follow links below and be guided to your desired method.
Online: OK2SAY.com
Text: 652729 (OK2SAY)
Email:ok2say@mi.gov
By Phone: 855-565-2729
Note: The Google play link only works via an Android device.