Welcome To Stottlemyer
Early Childhood & Family Development Center
Enroll Today!
Ready to Enroll?
Visit our Enroll Today page now for information on the Enrollment Process, What Schools your Child/ren will attend, What to Bring, as well as other important information and enrollment Quick Links.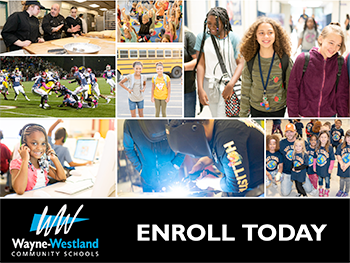 Points of Pride
Points of Pride
Stottlemyer offers numerous parent events during and after school throughout the year.
Attendance at the events is often over 400!

Stottlemyer will send 342 students to our district kindergarten classrooms!

100% staff are highly qualified for the roles they serve!
Early Childhood Special Education Program (ECP)
ECP has a highly specialized staff to work with children with a wide variety of special needs.
Early Childhood Special Education Services (ECS)
ECS provides services to over 200 children annually ages 0-3 with a diagnosis delay from 10 districts in Western Wayne County.
SPARKEY (tuition preschool)
95% of the parents from the SPARKEY preschool program were very pleased with their child's academic and behavorial progress for the 2017-2018 school year.

SPARKEY Parents loved the BLOOMZ communication app used in the classroom! 100% were pleased with communication from the teacher!
GSRP
112 4 year old children received full day preschool in the GSRP program.
HEAD START

Head Start is a parent driven program and includes monthly parent policy committee meetings, parent programs, and parent training.
---
Important Forms, Documents & Links
Stottlemyer Forms, Documents & Links

First Weeks of School Handbook


SPARKEY Parent/Family Handbook


District Handbook


Preschool Points of Pride


Bus Transportation Forms & Information


Non-Discrimination Policy
Registration Information

2018-2019 Sparkey Enrollment
Required Forms
March 4, 2020
Board selects Superintendent finalists
The Board of Education of Wayne-Westland Community Schools has selected two finalists to interview for the Superintendent position.


Visit Our OK2SAY Page

Contact Us
Stottlemyer Early Childhood
34801 Marquette
Westand, MI 48185



Phone: 734-419-2630
Fax: 734-595-2573

Champions Before and After Care
Phone: (734) 512-8571
Office Hours
Mon - Th 7:30am - 4:15pm

Website Accessibility
Website Accessibility Policy
Wayne-Westland Community Schools ("District") is committed to ensuring accessibility of its website for students, parents, employees, and members of the public. All pages on the District's website will conform to the W3C WAI's Web Content Accessibility Guidelines (WCAG) 2.0, Level AA conformance, or updated equivalents of those guidelines. The District will continue to test future releases/updates of its website and remains committed to maintaining its compliance and serving the widest possible audience. To this end, the District will perform periodic accessibility audits of its website.

Please report any concerns on the Accessibility Concerns page.

Web Accessibility Coordinator:
Scott Mastenbrook
734 419-2009
MastenbrookS@wwcsd.net