Welcome to

John Glenn High School
Mission Statement
It is the primary mission of John Glenn High School staff, parents, and community to teach all students to become successful ROCKET (Respectful, Organized, Cooperative, Knowledgeable, Enthusiastic, Trustworthy) learners.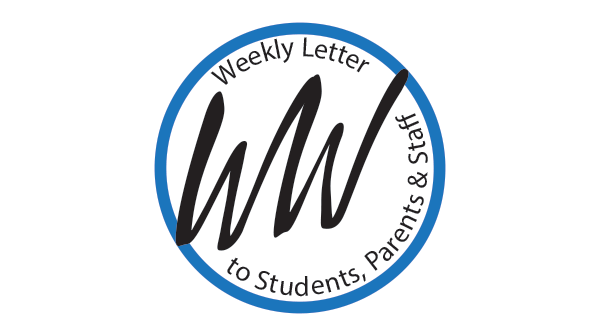 November 22, 2022
Dear Wayne-Westland Families,
On November 20, 2022, the Westland Police Department and Wayne-Westland Community Schools learned of a social media threat against John Glenn High School. As a safety precaution, John Glenn High School closed on November 21, 2022, and transitioned to virtual learning on November 22, 2022. The Westland Police arrested a 14-year-old Inkster resident, a current 9th-grade student at John Glenn High School. The 14-year-old is currently in custody at the Wayne County Juvenile Detention Center, awaiting arraignment on criminal charges.
School will be in session on Wednesday, November 23, 2022. Students will report to school in the morning for an already scheduled half day. Students will be dismissed at 10:20 am.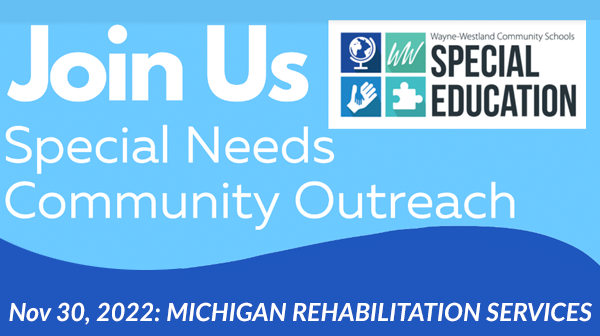 November 22, 2022
Special Needs Community Outreach
The Wayne-Westland Community Schools Special Education Department is hosting a series of Community Outreach Nights. We are  hosting a series of informational sessions to share resources for families of students with special needs. These sessions are open to the entire community. Please join us from 6:30- 7:30 p.m. at Dyer Senior Center, 36745 Marquette, Westland, Mi 48185 on the following dates:
Nov 30 : Michigan Rehabilitation Services
An introduction to services an individual with a disability may be eligible to receive and how and when to access services. Join us in person or virtually (Google Meet Link).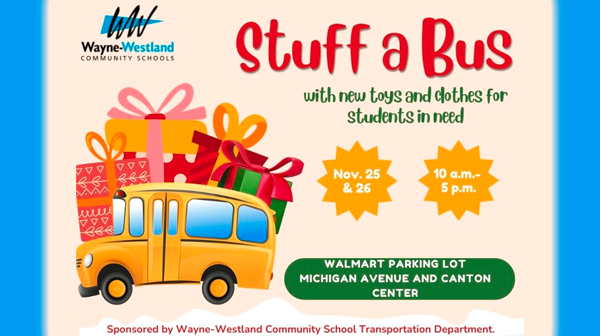 November 22, 2022
Stuff a Bus : with new toys and clothes for students in need
Our Stuff a Bus event is sponsored by Wayne-Westland Community Schools Transportation Department. 
LOCATION, DATE and TIME:
Walmart Parking Lot
at Michigan Avenue and Canton Center 
November 25 & 26, 2022
10:00 am to 5:00 pm

Stuff a Bus Flyer
Points of Pride
Two John Glenn DECA students were 2-time DECA State Champions this year and qualified for the International Career Development Conference in Atlanta, GA. they were named as finalists and placed Top 20 in the world!!
Naval Academy student
7.9 Million in scholarships
86% of students have been accepted to college
3 time wrestling State Champion
Wrestling Coach of the Year
School record and state track & field athlete in 100m and 200m
Girls bowling KLAA Division and Conference Champions
Girls Swimming & Diving - Academic All State Team
Nick James
Assistant Principal
Dr. Mary Jenkins-Williams
Assistant Principal
Contact Us
John Glenn High School
36105 Marquette
Westland, MI 48185



Phone: 734-419-2300
Fax: 734-595-2338
Attendance Line: 734-419-2303
Student Hours
Full Day: 7:10 am - 2:00 pm
AM Half Day: 7:10 am - 10:20 am
Glenn Calendar
Glenn Calendar

Previous

November

2022

Next

S
M
T
W
T
F
S
1
2
3

Nov 3

5:30 PM to 7:30 PM

Tutoring

Calendar:

John Glenn High School

7:00 PM to 8:00 PM

Winter Guard Informational Meeting

Calendar:

John Glenn High School

4
5
6
7
8

Nov 8

No School

Calendar:

John Glenn High School

9
10

Nov 10

5:30 PM to 7:30 PM

Tutoring

Calendar:

John Glenn High School

11
12
13
14
15
16
17

Nov 17

5:30 PM to 7:30 PM

Tutoring

Calendar:

John Glenn High School

18
19

Nov 19

State Semi-Finals Football (Host?)

Calendar:

JGHS Google Cal External

20
21
22
23

Nov 23

7:10 AM to 10:18 AM

1/2 Day School

Calendar:

John Glenn High School

24

Nov 24

No School-Thanksgiving Recess

Calendar:

John Glenn High School

25

Nov 25

No School-Thanksgiving Recess

Calendar:

John Glenn High School

26
27
28
29
30
Tutoring

Calendar:

John Glenn High School

Tutoring

Calendar:

John Glenn High School

Tutoring

Calendar:

John Glenn High School

Tutoring

Calendar:

John Glenn High School

No School Winter Break

Calendar:

John Glenn High School
Website Accessibility
Website Accessibility Policy
Wayne-Westland Community Schools ("District") is committed to ensuring accessibility of its website for students, parents, employees, and members of the public. All pages on the District's website will conform to the W3C WAI's Web Content Accessibility Guidelines (WCAG) 2.0, Level AA conformance, or updated equivalents of those guidelines. The District will continue to test future releases/updates of its website and remains committed to maintaining its compliance and serving the widest possible audience. To this end, the District will perform periodic accessibility audits of its website.

Please report any concerns on the Accessibility Concerns page.

Web Accessibility Coordinator:
Scott Mastenbrook
734 419-2009
MastenbrookS@wwcsd.net