Welcome To

John Glenn
Enroll Today!
Ready to Enroll?
Visit our Enroll Today page now for information on the Enrollment Process, What Schools your Child/ren will attend, What to Bring, as well as other important information and enrollment Quick Links.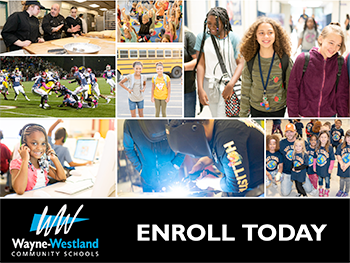 Mission Statement
Mission Statement

It is the primary mission of John Glenn High School staff, parents, and community to teach all students to become successful ROCKET (Respectful, Organized, Cooperative, Knowledgeable, Enthusiastic, Trustworthy) learners.
John Glenn Resources
John Glenn High School Forms, Documents & Links

Annual Education Reports


EMU Bright Futures - John Glenn


John Glenn Boundary Map


Request Transcript


School Improvement Plan

Regular School Day Schedule
First Bell: 7:05 AM
Tardy Bell: 7:10 AM
1st Hour: 7:10-8:08
2nd Hour: 8:13-9:15
3rd Hour: 9:20-10:18
4th Hour: 10:23-11:54
5th Hour: 11:59-12:57
6th Hour: 1:02-2:00
Lunch Hours
"A" Lunch: 10:23-10:50
"B" Lunch: 10:55-11:22
"C" Lunch: 11:27-11:54
Important Forms, Documents & Links
WWCS

Forms, Documents & Links

Bus Transportation Routes - MISTAR


Bus Transportation Forms & Information


Champions Before & After School


District Handbook


First Weeks of School Handbook


High School Points of Pride


Non-Discrimination Policy


Update Registration for Current Students


Volunteer Information & ICHAT Form
Points of Pride
Points of Pride
Two John Glenn DECA students were 2-time DECA State Champions this year and qualified for the International Career Development Conference in Atlanta, GA. they were named as finalists and placed Top 20 in the world!!
Naval Academy student
7.9 Million in scholarships
86% of students have been accepted to college
3 time wrestling State Champion
Wrestling Coach of the Year
School record and state track & field athlete in 100m and 200m
Girls bowling KLAA Division and Conference Champions
Girls Swimming & Diving - Academic All State Team
John Glenn Latest News

View Archives
May 18, 2020
New Curriculum Resources Added
WWCS has added new Curriculum Resource opportunities to the District Updates page. - Indicates New Item. New packets were added for Kindergarten - 6th Grades for the week of May 18 - May 22.
Previous updates included a breakout of individual pages for ELA, Math, Science and Social Studies for both the Middle School and High School levels. All of these pages contain links to newly posted and previously posted enrichment resources.
Please check back often as we continue working to gather and post new educational enhancement resources for your child's continued education during the state mandated shutdown.

District COVID19 Updates (Cirriculum Resources)
May 11, 2020
Free Breakfast and Lunch for Children
Wayne-Westland Community Schools will be providing access to FREE breakfast and lunch for ALL students up to 18 years old and students age 18-26 in the adult transitional program. Families are welcome to pick up meals on

Monday, May 18, 2020​ ​(5 day supply of breakfast and lunch)
10 am- 12 pm​ (or while supplies last)
John Glenn High School,​ ​36105 Marquette, Westland

This is a drive-thru distribution. You must have your trunk open and volunteers will place food and learning materials in the trunk of your vehicle. All Traffic Must Enter Marquette From Wayne Road. No Entrance From Newburgh. See attached flyer for full details.

May 7, 2020
JGHS Class of 2020 Parade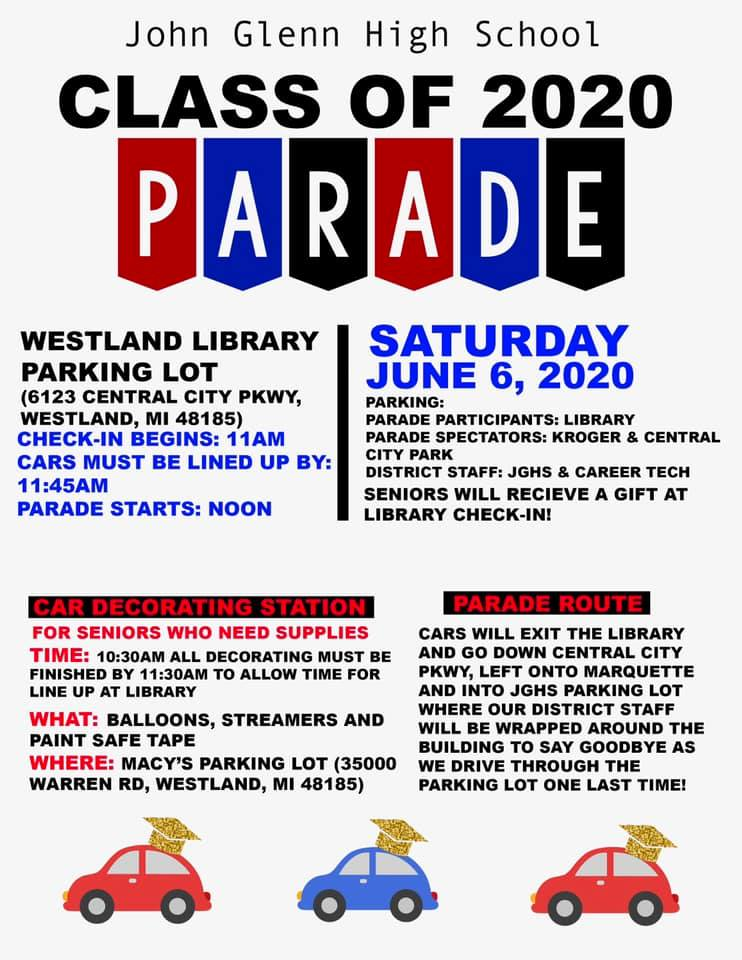 A group of John Glenn Senior parents have organized a car parade for the Class of 2020!
Saturday June 6, 2020
Check in begins at 11AM
Cars must be lined up by 11:45AM
Parade starts at NOON
Car Decorating Station
For Seniors Who Need Supplies...
Time: 10:30AM - All decorating must be finished by 11:30 to allow line up at the library.
What: Balloons, Streamers and Paint Safe Tape
Where: Macy's Parking Lot (35000 Warren Rd, Westland, MI 48185)
Details:
The parade will start at the Westland Public Library and travel down Central City. The police will be blocking off Ford Rd. Once the group reaches Marquette, they will enter John Glenn and go past Receiving, around the back and up the east side of the building and then out the exit.
John Glenn and WW staff will be around Glenn while the parents and other spectators line Central City. Please bring signs, balloons, noise makers, etc. to this event.
The most memorable part of last year's clap out was when the Seniors came back to Glenn and saw everyone cheering for them. Watching the Seniors revel in that moment is indescribable.
April 29, 2020
Wayne-Westland Online Learning News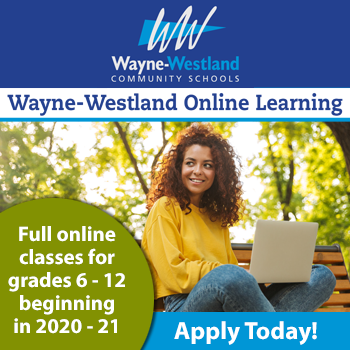 Beginning in 2020-21 Wayne-Westland Community Schools will offer full online schooling for students grades 6-12. For more information, please call 734-419-2274 or visit our Wayne-Westland Online Learning page for details.
April 24, 2020
Wayne-Westland Online Learning Program
This fall Wayne-Westland Community Schools will offer full time online learning for 6-12 grade students.
April 17, 2020
WWCS Needs Survey
Survey for WWCS Families
Wayne-Westland Community Schools is offering a survey to all parents to determine their current mental health, academic, and basic needs. We are asking our families to fill out this Needs Survey . District staff will follow up to assist families with their needs.


Visit Our OK2SAY Page

Contact Us
John Glenn High School
36105 Marquette
Westland, MI 48185



Phone: 734-419-2300
Fax: 734-595-2338
Attendance Line: 734-419-2303
Student Hours
Full Day: 7:10 am - 2:00 pm
AM Half Day: 7:10 am - 10:20 am
Glenn Calendar
Glenn Calendar

‹

May

2020

›

S
M
T
W
T
F
S
1
2
3
4
5

May 5

Early Dismissal (1 Hour)

Calendar:

John Glenn High School

6
7
8
9
10
11

May 11

Testing Out Application Due

Calendar:

John Glenn High School

12
13
14
15
16
17
18

May 18

Testing Out Projects Due

Calendar:

John Glenn High School

19
20
21

May 21

Seniors Last Day of School

Calendar:

John Glenn High School

22
23
24
25
26
27
28
29
30

May 30

Graduation

Calendar:

John Glenn High School

10:00 AM to 12:00 PM

John Glenn High School Graduation

Location:

Eastern Michigan University Convocation Center

Calendar:

John Glenn High School

31
Graduation

Calendar:

John Glenn High School

John Glenn High School Graduation

Time:

10:00 AM to 12:00 PM

Location:

Eastern Michigan University Convocation Center

Calendar:

John Glenn High School

Final Exams-2nd and 3rd 1/2 Day

Time:

7:10 AM to 10:18 AM

Calendar:

John Glenn High School

Final Exams-4th and 5th-1/2 Day

Time:

7:10 AM to 10:18 AM

Calendar:

John Glenn High School

Last Day of School

Calendar:

John Glenn High School
Website Accessibility
Website Accessibility Policy
Wayne-Westland Community Schools ("District") is committed to ensuring accessibility of its website for students, parents, employees, and members of the public. All pages on the District's website will conform to the W3C WAI's Web Content Accessibility Guidelines (WCAG) 2.0, Level AA conformance, or updated equivalents of those guidelines. The District will continue to test future releases/updates of its website and remains committed to maintaining its compliance and serving the widest possible audience. To this end, the District will perform periodic accessibility audits of its website.

Please report any concerns on the Accessibility Concerns page.

Web Accessibility Coordinator:
Scott Mastenbrook
734 419-2009
MastenbrookS@wwcsd.net