Welcome To

Edison Elementary School
Edison Resources

Bus Transportation Routes - Edison


Bus Transportation Forms & Information


First Weeks of School Handbook


District Handbook


Code of Conduct​


Elementary Points of Pride


School Supply List


Parent & Student Handbook


Field Trip Permission Form


Territory Map


Report Card Standards


School Improvement Plan


2017 Annual Education Report
Mission Statement & Points of Pride
Mission Statement
Students will be empowered to achieve their goals through lifelong learning and leading.
Belief Statement
We believe that all students can learn in a safe, caring, responsible, positive, and respectful environment. We also believe that parent support at home with homework and practice is important to a child's school success and that teachers' utilization of research-based teaching practices will engage all students to achieve their personal best.
Vision Statement
To empower students to be lifelong leaders and learners.
Points of Pride
Students collected and sorted 1500 pounds of bottle caps thus earning the school 3 Buddy Benches for their playgrounds.
Edison uses Class Dojo Schoolwide to record PBIS data and send out great information items and at have 95% of parents signed up and watching their kids learn.
Students on the Stage - Edison students performed in WWCSD Children's Theatre Production of Aladdin and Wayne Memorial High School production of Seussical.
Fully student-led news crew that records the daily announcements.
Reduced Office Referral totals by half from in two years
Community partnerships with Grace Worship Center, Community Financial, Aubrees, the Grangers, and the Masons among others.
Active and supportive PTO
The Cost of Educating a Student
Edison Eagles Newsletter

View Archives
September, 2018 Eagles Newsletter
February 15, 2019
Valentines Dance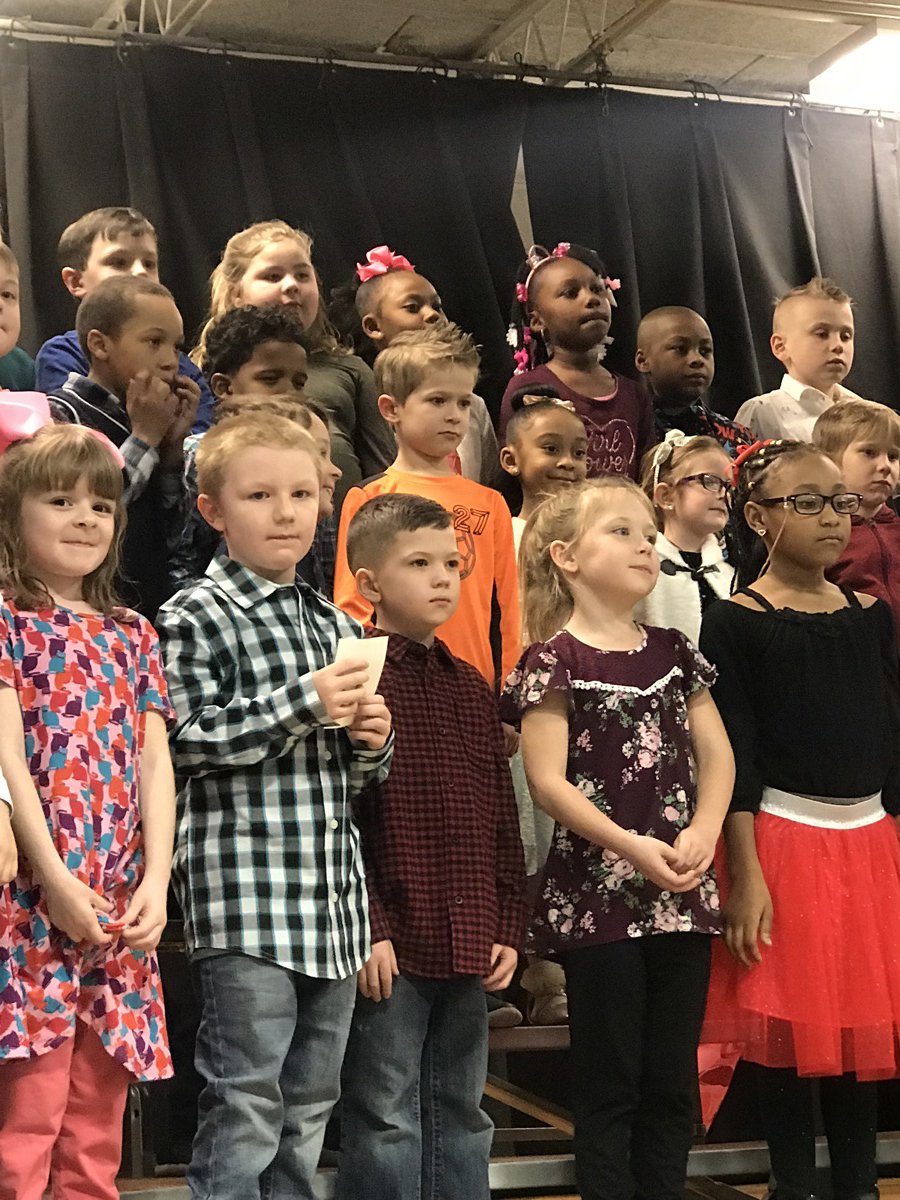 View more images from this event
Our First graders along with some 2nd graders from Mrs. Dennis' class worked very hard to give a wonderful performance about love, family and friendship. From their fantastic songs to their adorable dance moves they definitely made it a night for all of us to remember. 
February 4, 2019
Learning to Give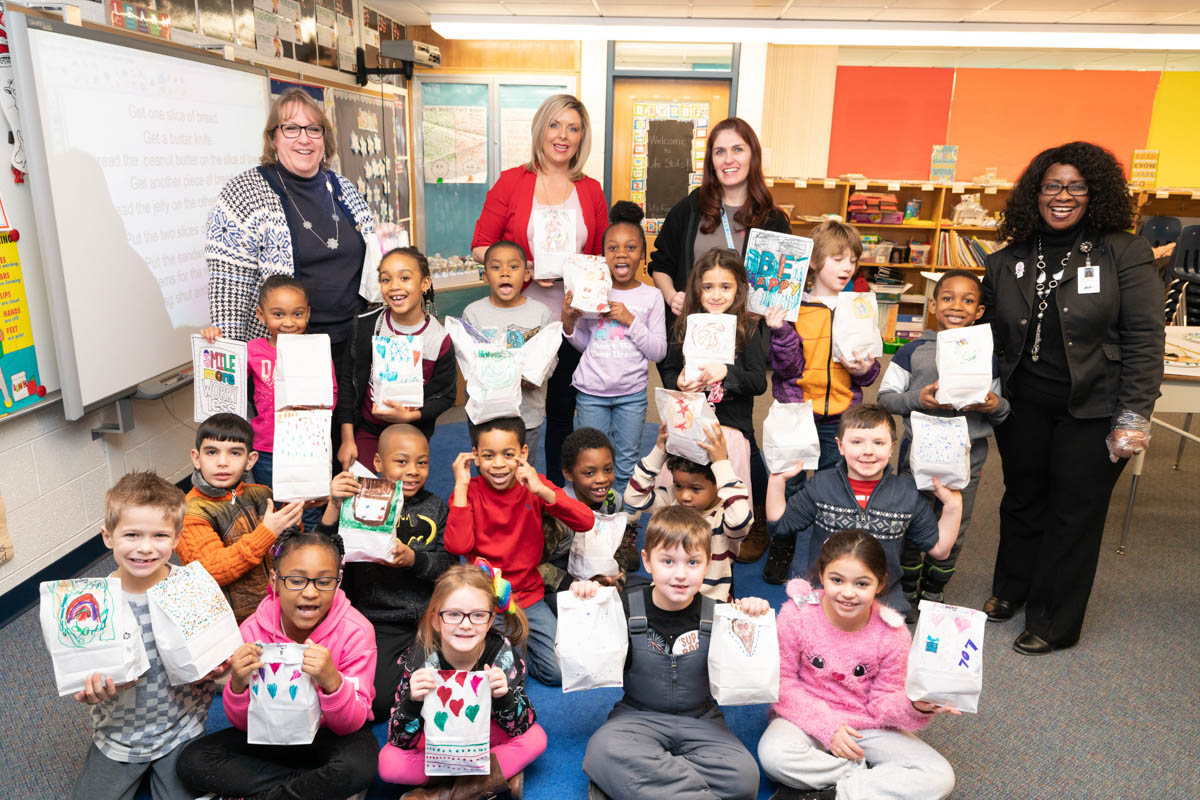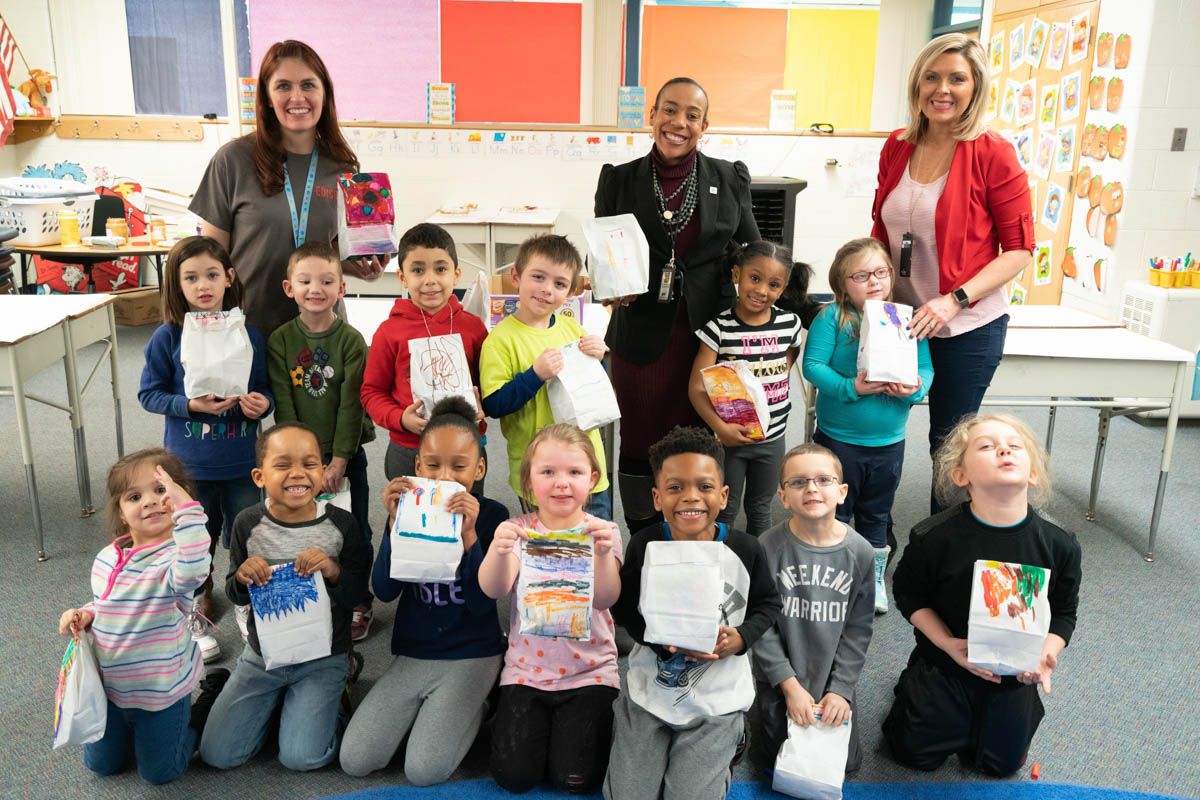 View all images from this event!
Elementary students Learning to Give by making lunches for homeless
The students at Edison Elementary School in Westland spread a lot of love along with peanut butter and jelly today when they made bag lunches for the homeless members of our community.
During their Life Skills class the students, with assistance from district staff, made a "Lunch of Love" which included a peanut butter and jelly sandwich, chips, granola bars and water packed in a hand-decorated bag. Each bag also included a student-written inspirational message.
This project was made possible by a grant through Learning To Give, called Lunches of Love. They provided $500 for supplies. Additionally, the students brought in jars of peanut butter.
"Our students have been learning about the community, giving, hunger, how to be a philanthropist and what that means for the past several weeks in Life Skills," said Amy Peters, an instructional coach at Edison Elementary School. "These kids are beyond excited to make a difference to someone during this service learning project!"
The lunches will be delivered to  Full Gospel Temple's overnight warming station located in Westland.
January 27, 2019
Weather-related school closing factors

1-29-19 Memo from Dr. Holt regarding school closing factors


Weather-related school closing factors
Attendance Line: 734-419-2606
Student Hours: Full Day: 9:00 am - 3:50 pm
AM Half Day: 9:00 am -12:10 pm
Edison Calendar
Edison Calendar

‹

March

2019

›

S
M
T
W
T
F
S
1

Mar 1

Wordy Shirt Day - wear a shirt with words on it to school

Calendar:

Edison Elementary

This event has a Google Hangouts video call. Join: https://hangouts.google.com/hangouts/_/wwcsd.net/swansonc?hceid=d3djc2QubmV0X2k2dTQ0bjNhbjdxamZhcms5NGZmc250ZTY4QGdyb3VwLmNhbGVuZGFyLmdvb2dsZS5jb20.103jsk7l9o9tl46lcobk8et2l3&hs=121

2
3
4

Mar 4

Spring Picture Day

Calendar:

Edison Elementary

This event has a Google Hangouts video call. Join: https://hangouts.google.com/hangouts/_/wwcsd.net/spring-picture?hceid=d3djc2QubmV0X2k2dTQ0bjNhbjdxamZhcms5NGZmc250ZTY4QGdyb3VwLmNhbGVuZGFyLmdvb2dsZS5jb20.skcbeidnm1j66oafh75i14pook&hs=121

Wear a Hat Day - March is Reading Month Event

Calendar:

Edison Elementary

This event has a Google Hangouts video call. Join: https://hangouts.google.com/hangouts/_/wwcsd.net/swansonc?hceid=d3djc2QubmV0X2k2dTQ0bjNhbjdxamZhcms5NGZmc250ZTY4QGdyb3VwLmNhbGVuZGFyLmdvb2dsZS5jb20.1r8ighpjtj68st6argb6qqftg2&hs=121

5

Mar 5

Wear Camo/Outdoor Wear Day - March is Reading Month Event

Calendar:

Edison Elementary

This event has a Google Hangouts video call. Join: https://hangouts.google.com/hangouts/_/wwcsd.net/swansonc?hceid=d3djc2QubmV0X2k2dTQ0bjNhbjdxamZhcms5NGZmc250ZTY4QGdyb3VwLmNhbGVuZGFyLmdvb2dsZS5jb20.1100r97jejoha6lidfel07ln5g&hs=121

6

Mar 6

3rd Grade Field Trip Hudson Mills

Calendar:

Edison Elementary

This event has a Google Hangouts video call. Join: https://hangouts.google.com/hangouts/_/wwcsd.net/3rd-grade?hceid=d3djc2QubmV0X2k2dTQ0bjNhbjdxamZhcms5NGZmc250ZTY4QGdyb3VwLmNhbGVuZGFyLmdvb2dsZS5jb20.q56n77jgiac0jthpvdjflvfi4k&hs=121

Wear a Wacky Outfit - March is Reading Month Event

Calendar:

Edison Elementary

This event has a Google Hangouts video call. Join: https://hangouts.google.com/hangouts/_/wwcsd.net/swansonc?hceid=d3djc2QubmV0X2k2dTQ0bjNhbjdxamZhcms5NGZmc250ZTY4QGdyb3VwLmNhbGVuZGFyLmdvb2dsZS5jb20.52bks4cl2p3uiogo6o6uoiq2ri&hs=121

7

Mar 7

Wear you favorite college shirt - - March is Reading Month Event

Calendar:

Edison Elementary

This event has a Google Hangouts video call. Join: https://hangouts.google.com/hangouts/_/wwcsd.net/swansonc?hceid=d3djc2QubmV0X2k2dTQ0bjNhbjdxamZhcms5NGZmc250ZTY4QGdyb3VwLmNhbGVuZGFyLmdvb2dsZS5jb20.764qgsdl3l787hvocl3brj8ebb&hs=121

8

Mar 8

Wear Green - March is Reading Month Event

Calendar:

Edison Elementary

This event has a Google Hangouts video call. Join: https://hangouts.google.com/hangouts/_/wwcsd.net/swansonc?hceid=d3djc2QubmV0X2k2dTQ0bjNhbjdxamZhcms5NGZmc250ZTY4QGdyb3VwLmNhbGVuZGFyLmdvb2dsZS5jb20.24plvi3dcf116jcbe3bh7amq6l&hs=121

9
10
11

Mar 11

Scholastic Book Fair

Calendar:

Edison Elementary

This event has a Google Hangouts video call. Join: https://hangouts.google.com/hangouts/_/wwcsd.net/swansonc?hceid=d3djc2QubmV0X2k2dTQ0bjNhbjdxamZhcms5NGZmc250ZTY4QGdyb3VwLmNhbGVuZGFyLmdvb2dsZS5jb20.758l4im3bccm3l0lfdeolg74av&hs=121

12

Mar 12

Scholastic Book Fair

Calendar:

Edison Elementary

This event has a Google Hangouts video call. Join: https://hangouts.google.com/hangouts/_/wwcsd.net/swansonc?hceid=d3djc2QubmV0X2k2dTQ0bjNhbjdxamZhcms5NGZmc250ZTY4QGdyb3VwLmNhbGVuZGFyLmdvb2dsZS5jb20.758l4im3bccm3l0lfdeolg74av&hs=121

13

Mar 13

Scholastic Book Fair

Calendar:

Edison Elementary

This event has a Google Hangouts video call. Join: https://hangouts.google.com/hangouts/_/wwcsd.net/swansonc?hceid=d3djc2QubmV0X2k2dTQ0bjNhbjdxamZhcms5NGZmc250ZTY4QGdyb3VwLmNhbGVuZGFyLmdvb2dsZS5jb20.758l4im3bccm3l0lfdeolg74av&hs=121

Popcorn Day

Calendar:

Edison Elementary

This event has a Google Hangouts video call. Join: https://hangouts.google.com/hangouts/_/wwcsd.net/swansonc?hceid=d3djc2QubmV0X2k2dTQ0bjNhbjdxamZhcms5NGZmc250ZTY4QGdyb3VwLmNhbGVuZGFyLmdvb2dsZS5jb20.0fm84koapdnjuds2oi4sjflnn8&hs=121

14

Mar 14

Scholastic Book Fair

Calendar:

Edison Elementary

This event has a Google Hangouts video call. Join: https://hangouts.google.com/hangouts/_/wwcsd.net/swansonc?hceid=d3djc2QubmV0X2k2dTQ0bjNhbjdxamZhcms5NGZmc250ZTY4QGdyb3VwLmNhbGVuZGFyLmdvb2dsZS5jb20.758l4im3bccm3l0lfdeolg74av&hs=121

15

Mar 15

Scholastic Book Fair

Calendar:

Edison Elementary

This event has a Google Hangouts video call. Join: https://hangouts.google.com/hangouts/_/wwcsd.net/swansonc?hceid=d3djc2QubmV0X2k2dTQ0bjNhbjdxamZhcms5NGZmc250ZTY4QGdyb3VwLmNhbGVuZGFyLmdvb2dsZS5jb20.758l4im3bccm3l0lfdeolg74av&hs=121

1/2 Day for Students; 12:10 Dismissal

Calendar:

Edison Elementary

This event has a Google Hangouts video call. Join: https://plus.google.com/hangouts/_/wwcsd.net/1-2-day-for?hceid=d3djc2QubmV0X2k2dTQ0bjNhbjdxamZhcms5NGZmc250ZTY4QGdyb3VwLmNhbGVuZGFyLmdvb2dsZS5jb20.kqe1jnaeoaoq9upebb495sr3f4&hs=121

Dress as your favorite storybook character - March is Reading Month Event

Calendar:

Edison Elementary

This event has a Google Hangouts video call. Join: https://hangouts.google.com/hangouts/_/wwcsd.net/swansonc?hceid=d3djc2QubmV0X2k2dTQ0bjNhbjdxamZhcms5NGZmc250ZTY4QGdyb3VwLmNhbGVuZGFyLmdvb2dsZS5jb20.1d6ge31fj23om8n1itghira09a&hs=121

1:00 PM to 2:00 PM

Kindergarten Round Up

Calendar:

Edison Elementary

This event has a Google Hangouts video call. Join: https://plus.google.com/hangouts/_/wwcsd.net/kindergarten?hceid=d3djc2QubmV0X2k2dTQ0bjNhbjdxamZhcms5NGZmc250ZTY4QGdyb3VwLmNhbGVuZGFyLmdvb2dsZS5jb20.dr156ugtf03on3mr1buboscf7g&hs=121

16
17
18
19

Mar 19

4:00 PM to 4:30 PM

PTO Meeting - Edison Library

Calendar:

Edison Elementary

This event has a Google Hangouts video call. Join: https://hangouts.google.com/hangouts/_/wwcsd.net/swansonc?hceid=d3djc2QubmV0X2k2dTQ0bjNhbjdxamZhcms5NGZmc250ZTY4QGdyb3VwLmNhbGVuZGFyLmdvb2dsZS5jb20.3donoue09sureub0fk3h6hao7d&hs=121

20
21

Mar 21

6:00 PM to 8:00 PM

Edison Skate Night

Location:

Riverside Arena, 36635 Plymouth Rd, Livonia, MI 48150, USA

Calendar:

Edison Elementary

Come roller skate with us and support the Edison PTO. Admission is $7.50 and includes skate rental. Food Combo available - $3.00 for a soda and a slice of pizza. This event has a Google Hangouts video call. Join: https://hangouts.google.com/hangouts/_/wwcsd.net/swansonc?hceid=d3djc2QubmV0X2k2dTQ0bjNhbjdxamZhcms5NGZmc250ZTY4QGdyb3VwLmNhbGVuZGFyLmdvb2dsZS5jb20.3gg0m30rn3be5257epm18q2euc&hs=121

22

Mar 22

Sports Theme Day - Wear your favorite team attire - March is Reading Month Event

Calendar:

Edison Elementary

This event has a Google Hangouts video call. Join: https://hangouts.google.com/hangouts/_/wwcsd.net/swansonc?hceid=d3djc2QubmV0X2k2dTQ0bjNhbjdxamZhcms5NGZmc250ZTY4QGdyb3VwLmNhbGVuZGFyLmdvb2dsZS5jb20.2od6kn3ffqfdg7oirj7t1auccm&hs=121

9:15 AM to 10:15 AM

Coffee with the Principal

Calendar:

Edison Elementary

This event has a Google Hangouts video call. Join: https://hangouts.google.com/hangouts/_/wwcsd.net/swansonc?hceid=d3djc2QubmV0X2k2dTQ0bjNhbjdxamZhcms5NGZmc250ZTY4QGdyb3VwLmNhbGVuZGFyLmdvb2dsZS5jb20.3brgaa7v76guo8dkmva58haaa6&hs=121

23
24
25
26

Mar 26

Community Financial Student Credit Union Deposit Day

Calendar:

Edison Elementary

This event has a Google Hangouts video call. Join: https://hangouts.google.com/hangouts/_/wwcsd.net/swansonc?hceid=d3djc2QubmV0X2k2dTQ0bjNhbjdxamZhcms5NGZmc250ZTY4QGdyb3VwLmNhbGVuZGFyLmdvb2dsZS5jb20.0mirpoub4b8h26i6ll1s9gm4oa&hs=121

27
28
29

Mar 29

Spirit Day - Pajama Day

Calendar:

Edison Elementary

Donate $1.00 to support the Edison Art program and Climate and Culture building activities in the building. Wear your PJs to school - please no slippers - and have a relaxing day. This event has a Google Hangouts video call. Join: https://hangouts.google.com/hangouts/_/wwcsd.net/swansonc?hceid=d3djc2QubmV0X2k2dTQ0bjNhbjdxamZhcms5NGZmc250ZTY4QGdyb3VwLmNhbGVuZGFyLmdvb2dsZS5jb20.4gjcisi31ogmjdeunstop90841&hs=121

30
31
Edison Skate Night

Location:

Riverside Arena, 36635 Plymouth Rd, Livonia, MI 48150, USA

Calendar:

Edison Elementary

Come roller skate with us and support the Edison PTO. Admission is $7.50 and includes skate rental. Food Combo available - $3.00 for a soda and a slice of pizza. This event has a Google Hangouts video call. Join: https://hangouts.google.com/hangouts/_/wwcsd.net/swansonc?hceid=d3djc2QubmV0X2k2dTQ0bjNhbjdxamZhcms5NGZmc250ZTY4QGdyb3VwLmNhbGVuZGFyLmdvb2dsZS5jb20.3gg0m30rn3be5257epm18q2euc&hs=121

Sports Theme Day - Wear your favorite team attire - March is Reading Month Event

Calendar:

Edison Elementary

This event has a Google Hangouts video call. Join: https://hangouts.google.com/hangouts/_/wwcsd.net/swansonc?hceid=d3djc2QubmV0X2k2dTQ0bjNhbjdxamZhcms5NGZmc250ZTY4QGdyb3VwLmNhbGVuZGFyLmdvb2dsZS5jb20.2od6kn3ffqfdg7oirj7t1auccm&hs=121

Coffee with the Principal

Time:

9:15 AM to 10:15 AM

Calendar:

Edison Elementary

This event has a Google Hangouts video call. Join: https://hangouts.google.com/hangouts/_/wwcsd.net/swansonc?hceid=d3djc2QubmV0X2k2dTQ0bjNhbjdxamZhcms5NGZmc250ZTY4QGdyb3VwLmNhbGVuZGFyLmdvb2dsZS5jb20.3brgaa7v76guo8dkmva58haaa6&hs=121

Community Financial Student Credit Union Deposit Day

Calendar:

Edison Elementary

This event has a Google Hangouts video call. Join: https://hangouts.google.com/hangouts/_/wwcsd.net/swansonc?hceid=d3djc2QubmV0X2k2dTQ0bjNhbjdxamZhcms5NGZmc250ZTY4QGdyb3VwLmNhbGVuZGFyLmdvb2dsZS5jb20.0mirpoub4b8h26i6ll1s9gm4oa&hs=121

Spirit Day - Pajama Day

Calendar:

Edison Elementary

Donate $1.00 to support the Edison Art program and Climate and Culture building activities in the building. Wear your PJs to school - please no slippers - and have a relaxing day. This event has a Google Hangouts video call. Join: https://hangouts.google.com/hangouts/_/wwcsd.net/swansonc?hceid=d3djc2QubmV0X2k2dTQ0bjNhbjdxamZhcms5NGZmc250ZTY4QGdyb3VwLmNhbGVuZGFyLmdvb2dsZS5jb20.4gjcisi31ogmjdeunstop90841&hs=121
Now Hiring Substitute Bus Drivers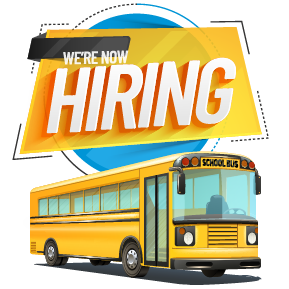 Now Hiring Substitute bus drivers
Part-time hours
$14 per hour