Welcome To

Edison Elementary
Enroll Today!
Ready to Enroll?
Visit our Enroll Today page now for information on the Enrollment Process, What Schools your Child/ren will attend, What to Bring, as well as other important information and enrollment Quick Links.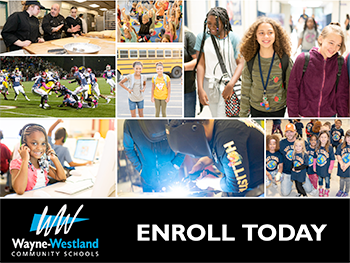 Mission Statement
Mission Statement
Students will be empowered to achieve their goals through lifelong learning and leading.
Belief Statement
We believe that all students can learn in a safe, caring, responsible, positive, and respectful environment. We also believe that parent support at home with homework and practice is important to a child's school success and that teachers' utilization of research-based teaching practices will engage all students to achieve their personal best.
Vision Statement
To empower students to be lifelong leaders and learners.
Edison Resources
Edison Elementary Forms, Documents & Links

Annual Education Report


Edison Boundary Map


EMU Bright Futures - Edison


Field Trip Permission Form


Parent & Student Handbook


School Improvement Plan


School Supply List
Important Forms, Documents & Links
WWCS

Forms, Documents & Links

Bus Transportation Routes - MISTAR


Bus Transportation Forms & Information


Champions Before & After School


District Handbook


Elementary Points of Pride


First Weeks of School Handbook


Meal Magic Family Portal


Non-Discrimination Policy


PaySchools


Update Registration for Current Students


Volunteer Information & ICHAT Form
Points of Pride
Points of Pride

Students collected and sorted 1500 pounds of bottle caps thus earning the school 3 Buddy Benches for their playgrounds.
Edison uses Class Dojo Schoolwide to record PBIS data and send out great information items and at have 95% of parents signed up and watching their kids learn.
Students on the Stage - Edison students performed in WWCSD Children's Theatre Production of Aladdin and Wayne Memorial High School production of Seussical.
Fully student-led news crew that records the daily announcements.
Reduced Office Referral totals by half from in two years
Community partnerships with Grace Worship Center, Community Financial, Aubrees, the Grangers, and the Masons among others.
Active and supportive PTO
Edison Latest News

View Archives
September 8, 2021
Letter to WWCS Families and Staff
Good Evening Wayne-Westland Community School Students, Staff, and Families,
What a great first week of school! This was one of the smoothest starts of the year that I can remember. Our students were able to open lockers, find their classrooms, navigate the technology, and acclimate themselves to what is going to be a great year. I want to thank all of you for your support and guidance.
Also, I want to inform you that we received reports of positive COVID-19 cases involving individuals connected with some of our schools. Those students who were in direct contact with any individuals were notified by our staff and are in quarantine. The purpose of this note is to ensure transparency with our entire school community by sharing information about a COVID-19 case involving an individual who was recently in one of our buildings.
We continue to work closely with the Wayne County Health Department, which will follow its protocols and communicate directly with those who may have been impacted. To protect the confidentiality, we do not release names in any COVID-19-related case. I appreciate your understanding and ask that you respect the privacy of those impacted. Wayne-Westland Community Schools' response procedures for cleaning and disinfecting are being followed.
We all must continue to partner for the health and safety of students, families, and staff. Please take all steps to mitigate the spread of COVID-19. These activities include self-screening and keeping your child at home if they do not feel well, using personal protective equipment, distancing where practicable, and frequent hand washing.
Have a wonderful week.
Sincerely,
John Dignan, Ed.D.
Superintendent
August 30, 2021
Letter to Wayne-Westland Community School Students, Staff, and Families
Good Evening Wayne-Westland Community School Students, Staff, and Families,
It was a great day as we welcomed our students and staff back for the 2021-22 school year. Thank you to all of you who worked so hard to prepare our students to come back to the classroom. I had the honor and privilege of visiting many of our schools and the excitement was contagious as our students and staff entered their classrooms. Our entire staff is doing such an amazing job helping our students transition back to in-person learning. Although we are returning with the hope of normalcy, we are continuing with many safety and security protocols.
So, today, I come to you to ask you to continue to help us. Remember the three W's:
Wash your hands
Wear that mask, and
When sick, stay home.
We still need to remain informed about household illnesses, positive COVID-19 cases, and exposures. Please contact your school's main office to report any information. Immediate communication will allow us to maintain a safe and healthy environment. As always, please keep your child home if they are sick AND keep them home if someone else in your household is sick. The safety of our students and staff remains our number one priority.
Once again, thank you for all of your hard work and dedication. You are truly appreciated. Let's continue our partnership to make the 2021-22 school year the best it can be! For more information, visit the Welcome Back to School section of our website. We hope everyone has a wonderful week.

Sincerely,
John Dignan, Ed.D.
Superintendent
August 29, 2021
Welcome Back Letter to all Wayne-Westland Community School Students, Staff, and Families
Good Evening Wayne-Westland Community School Students, Staff, and Families,
The beginning of a new school year is always exciting. Tomorrow is going to be a great day! To see our students back in class, learning, participating, and interacting with their peers and teachers will be very exciting. We know there will be some challenges as everyone adjusts to their school schedule, different classrooms, or different schools, but we are one team in Wayne-Westland Community Schools and we will rise to the challenge together. Here is some information that can help our students and staff prepare for the new school year.
Warm Weather
It is always warm at the beginning of the school year and many of our buildings do not have air conditioning. We realize that an additional factor is that students and staff will also wear masks this year. The weather is supposed to cool down this week but we could have warm days during the fall. Our schools and maintenance and operations staff have plans in place that they use every year, to help students and staff combat the heat. This includes;
Limiting outdoor activities and making sure shade is available when outdoors.
Limiting the use of heat generating equipment in classrooms.
Running univents overnight to help pre-cool the rooms naturally.
Encouraging students and staff to wear lightweight clothing.
Bring water to drink during the day. Proper hydration can help to reduce core body temperature.
NOTE: When the five year Bond construction is complete, all schools will have air conditioning.
Bond Construction Schedule
New this year is the Bond construction that is underway at John Glenn and Wayne Memorial High Schools. These projects are part of a five year construction program and the projects are proceeding as planned. Wayne Memorial High School construction is scheduled to be completed by June 2022 and John Glenn High School construction is scheduled to be completed by September 2022. Construction zones have been separated from student areas and our maintenance and operations staff have worked diligently to prepare the classrooms and common areas for the return of students and staff.
Having our students back in the school full time will be an adjustment for all so let's continue our partnership to make the 2021-22 school year the best it can be for our students! We must always be one Wayne-Westland Community Schools because Great Futures Start Right Here. For more information, visit the Welcome Back to School section of our website.
Sincerely,
John Dignan, Ed.D.
Superintendent
August 27, 2021
Letter to the Wayne-Westland School Community
Dear Wayne-Westland School Community,
The 2021-22 school year is right around the corner. We can't wait to welcome our students back on Monday, August 30. All school offices are open and our team is busy preparing a welcoming and engaging environment at your school. Our high school bands and athletic teams are back on the practice field and secondary parents have received informational packets. You will also receive emails from your child/ren's principal with school information.
Mask Mandate
Today, August 27, 2021, the Wayne County Health Department announced they are implementing a K-12 mask mandate for all schools in Wayne County. Effective immediately, all PreK-12 students, staff, and visitors, both vaccinated and unvaccinated, are required by law to wear masks while inside any District school or building. This is a mandate for all Wayne County school districts. Masks are not required outdoors for staff, students or visitors.
In addition to the mask mandate, the District will continue protocols that have proven effective, including self-screening, regular hand washing, use of disinfectant, distancing to the extent practicable, and contact tracing in combination with quarantine. While vaccines remain a personal choice, we join the health department and the many individuals impacted by COVID-19 to encourage you to learn more about their availability.
Please engage in daily screening and keep your children home if they do not feel well or run a fever.
For Families Who Use Transportation
Consistent with the federal mandate and the CDC's Requirement for Face Masks on Public Transportation, which includes school buses, face masks will continue to be required for students, staff, and drivers while using WWCS transportation services.
Sports
All athletic and activities programs will continue to follow MHSAA guidelines and Wayne County Health Department mandates. Until further notice, all indoor activities including practice, competitions, weight room, team meetings, locker room use, team dinners, etc., require all personnel, student-athletes, and spectators to wear a mask.
Information on the latest school protocols is on our District website and is included in our WWCS Parent Handbook. I also encourage you to reach out to your school principal should you have additional questions regarding building protocols or other back-to-school-related questions.
Our skilled WWCS educators foster excellence and growth in our students is about to begin! Thank you for your partnership as we launch another exciting school year. As we look to the coming year, I am excited about the traditions and positive experiences that are characteristic of every school year. We develop champions in the classroom, in competition, and in life here at Wayne-Westland CommUNITY Schools. Thanks for your continued support and assistance as we start a great new school year!
Sincerely,
John Dignan, Ed.D.
Superintendent
July 29, 2021
Young 5s Flyer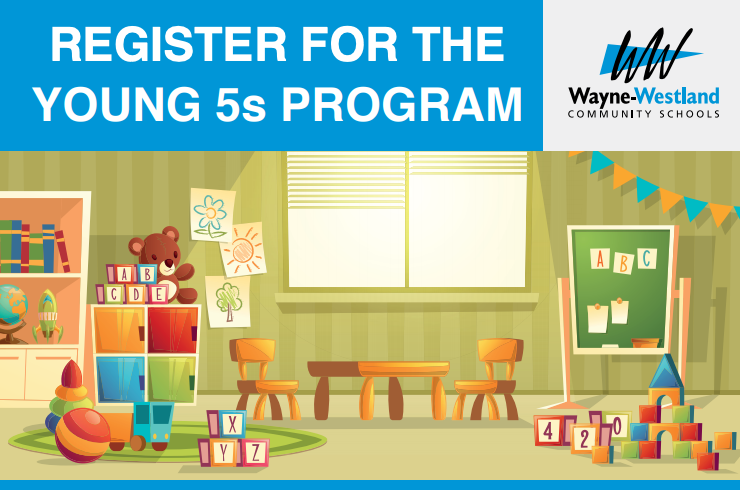 We are excited to share that Wayne-Westland Community Schools is offering a Young 5s program this fall. Attached is a flyer that explains the program with a link to an interest form.
Wayne-Westland is also a School of Choice District so students do NOT have to live within our attendance boundaries to attend our District.
Please share this information with anyone who may be interested in a Young 5 program for their child.
Enjoy the rest of your summer.

Young 5s Interest Form
Follow Our Social Media


Our teachers use ClassDojo for communication. Please inquire with your teacher on how to sign up for their class. What is ClassDojo?


2021-2022 In Person Updates


2021 In-Person Learning
Parent Handbook


Commitment to Safety Vids


Covid-19 Screening Tool
for Families


Visit Our OK2SAY Page

Contact Us
Edison Elementary
34505 Hunter
Westland, MI 48185



Phone: 734-419-2600
Fax: 734-595-2368
Attendance Line: 734-419-2606
Student Hours
Full Day: 9:10 am - 4:00 pm
AM Half Day: 9:10 am - 12:20 pm
Edison Calendar
Edison Calendar

Previous

October

2021

Next

S
M
T
W
T
F
S
1
2

Oct 2

10:00 AM to 11:00 AM

Edison Cowboys vs Panthers

Calendar:

Edison Elementary

3
4

Oct 4

9:45 AM to 10:05 AM

Community Financial Assembly K & 4

Calendar:

Edison Elementary

10:15 AM to 10:35 AM

Community Financial Assembly 1 & 3

Calendar:

Edison Elementary

10:45 AM to 11:05 AM

Community Financial Assembly 2 & 5

Calendar:

Edison Elementary

5
6
7
8

Oct 8

Fall Picture Day

Calendar:

Edison Elementary

9

Oct 9

11:00 AM to 12:00 PM

Edison Cowboys vs Browns

Calendar:

Edison Elementary

10
11
12
13
14
15
16

Oct 16

11:00 AM to 12:00 PM

Edison Cowboys vs Bears

Calendar:

Edison Elementary

17
18

Oct 18

Sports Team Spirit Day

Calendar:

Edison Elementary

19

Oct 19

School Spirit Day

Calendar:

Edison Elementary

20

Oct 20

Mismatch Spirit Day

Calendar:

Edison Elementary

21

Oct 21

Superhero or Princess TShirt Spirit Day

Calendar:

Edison Elementary

22

Oct 22

Pajama Spirit Day

Calendar:

Edison Elementary

9:00 AM to 11:00 AM

Popcorn Day!

Calendar:

Edison Elementary

23

Oct 23

3:00 PM to 4:00 PM

Edison Cowboys vs Chargers

Location:

Eastern Michigan University, 900 Oakwood St, Ypsilanti, MI 48197, USA

Calendar:

Edison Elementary

24
25

Oct 25

Scholastic Book Fair

Calendar:

Edison Elementary

26

Oct 26

Scholastic Book Fair

Calendar:

Edison Elementary

27

Oct 27

Scholastic Book Fair

Calendar:

Edison Elementary

28

Oct 28

Scholastic Book Fair

Calendar:

Edison Elementary

6:00 PM to 8:00 PM

Trunk or Treat

Calendar:

Edison Elementary

29

Oct 29

Scholastic Book Fair

Calendar:

Edison Elementary

1/2 Day of School - 12:20 Dismissal

Calendar:

Edison Elementary

30

Oct 30

12:00 PM to 1:00 PM

Edison Cowboys vs Rams

Calendar:

Edison Elementary

31
Scholastic Book Fair

Calendar:

Edison Elementary

Trunk or Treat

Calendar:

Edison Elementary

1/2 Day of School - 12:20 Dismissal

Calendar:

Edison Elementary

Edison Cowboys vs Rams

Time:

12:00 PM to 1:00 PM

Calendar:

Edison Elementary

No School - Election Day!

Calendar:

Edison Elementary
Website Accessibility
Website Accessibility Policy
Wayne-Westland Community Schools ("District") is committed to ensuring accessibility of its website for students, parents, employees, and members of the public. All pages on the District's website will conform to the W3C WAI's Web Content Accessibility Guidelines (WCAG) 2.0, Level AA conformance, or updated equivalents of those guidelines. The District will continue to test future releases/updates of its website and remains committed to maintaining its compliance and serving the widest possible audience. To this end, the District will perform periodic accessibility audits of its website.

Please report any concerns on the Accessibility Concerns page.

Web Accessibility Coordinator:
Scott Mastenbrook
734 419-2009
MastenbrookS@wwcsd.net