Welcome To Stevenson
Middle School
Enroll Today!
Ready to Enroll?
Visit our Enroll Today page now for information on the Enrollment Process, What Schools your Child/ren will attend, What to Bring, as well as other important information and enrollment Quick Links.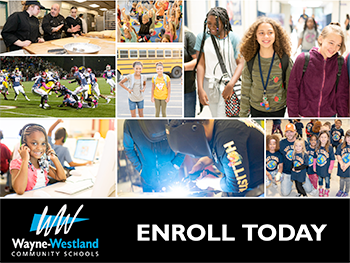 Mission Statement
Mission Statement
Stevenson Middle School is a place of meaningful relationships and mutual respect where every student experiences growth and takes responsibility for their learning, while growing one leader at a time.
Motto:
Leadership is doing what is right even when no one else is watching.
---
Stevenson Resources
Stevenson Middle School Forms, Documents & Links


Annual Education Reports


EMU Bright Futures - Stevenson


Family Handbook


Letter from Mrs. Doman


Order a Yearbook!


Stevenson Boundary Map


School Improvement Plan
Important Forms, Documents & Links
WWCS

Forms, Documents & Links

Bus Transportation Routes - MISTAR


Bus Transportation Forms & Information


Champions Before & After School


District Handbook


First Weeks of School Handbook


Middle School Points of Pride


Non-Discrimination Policy


Update Registration for Current Students


Volunteer Information & ICHAT Form
Points of Pride
Points of Pride
The percentage of special education students making gains on this years NWEA were 63% in math, 81% in reading, 82% in Language Usage, and 79% in Science under the new special education program implemented and developed at Stevenson this year.
Discipline ODRs decreased by over 50% from last year to this due to numerous interventions in the classroom, restorative practices, and a focus on creating a positive climate and culture.
In a new social studies pilot class, at risk students raised NWEA scores up to 61 points in Reading due to a focus on implementing the curriculum with instructional strategies centered around improving reading skills.
The Stevenson store was developed and implemented through a pilot program in math that incorporated the core standards through the creation, development, implementation, and management of a school store.
30 students competed in the State History Day. One of our 7th-grade winners has her exhibit displayed in the Yankee Air Museum.
District Spelling Bee Champs!!!!
Battle of the Books Champions!!!
Every student who attended Solo & Ensemble medaled with a first or second division.
National Junior Honor Society students raised over $5000 for charities this year.
Stevenson Latest News

View Archives
June 3, 2020
Wayne-Westland Community Schools Statement on Acceptance
Please read the statement from Interim Superintendent Jill Simmons.


Visit Our OK2SAY Page

Contact Us
Stevenson Middle School
38501 Palmer
Westland, MI 48186



Phone: 734-419-2350
Fax: 734-595-2692
Counseling: 734-419-2355
Attendance Line: 734-419-2370
Student Hours
Full Day: 7:50 am - 2:40 pm
AM Half Day: 7:50 am - 11:00 am
New Teacher Orientation

Calendar:

Stevenson Middle School

District Professional Development

Calendar:

Stevenson Middle School

First Day of School (AM only K-5)

Calendar:

Stevenson Middle School

First Day of School (Full Day)

Calendar:

Stevenson Middle School

Labor Day Recess

Calendar:

Stevenson Middle School
Website Accessibility
Website Accessibility Policy
Wayne-Westland Community Schools ("District") is committed to ensuring accessibility of its website for students, parents, employees, and members of the public. All pages on the District's website will conform to the W3C WAI's Web Content Accessibility Guidelines (WCAG) 2.0, Level AA conformance, or updated equivalents of those guidelines. The District will continue to test future releases/updates of its website and remains committed to maintaining its compliance and serving the widest possible audience. To this end, the District will perform periodic accessibility audits of its website.

Please report any concerns on the Accessibility Concerns page.

Web Accessibility Coordinator:
Scott Mastenbrook
734 419-2009
MastenbrookS@wwcsd.net