September 19, 2022
September is National Suicide Prevention Month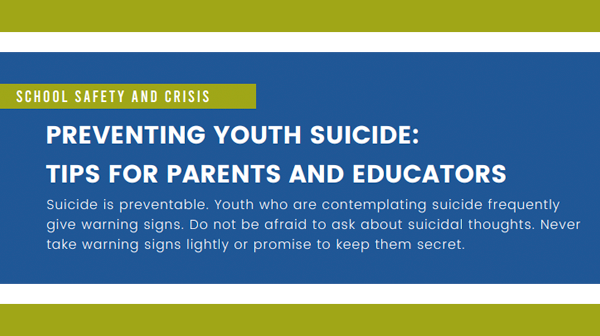 Wayne-Westland Community Schools has designated September 19-23 as Suicide Prevention Week in our District. Our District's Mental Health Task Force is working with our middle and high school staff to support suicide prevention and awareness.
Some of the activities planned during this week include:
Bulletin boards in schools that includes contact information and support
Morning announcements with age appropriate facts and myths about suicide
Poster contest for students (voluntary) to promote awareness around the National Suicide & Crisis Lifeline (9-8-8)
Self-care discussions in classes
Students and staff will be encouraged to wear yellow to support suicide awareness on Thursday, September 22, 2022.
In addition, as part of the Save Our Students Act, signed by Governor Whitmer on October 15, 2020, all middle and high school student identification cards will include the National Suicide & Crisis Lifeline, 9-8-8. This new shorter number was established in July 2022. This number replaces the previous National Suicide Prevention Lifeline and is easier for individuals to remember. Any calls placed to the previous number will automatically be routed to the new 9-8-8 number. For more information, please visit https://988lifeline.org.
The National Suicide & Crisis Lifeline (9-8-8) provides 24/7, free and confidential support for people in distress. It also offers prevention and crisis resources for you or your loved ones, and best practices for professionals in the United States.Suicide is the second leading cause of death for people between the age of 10-24. Help is available. We encourage you to have a conversation with your child about this lifeline and how they can access it.
For more tips on preventing youth suicide, please view this resource from the National Association of School Psychologists.
If you have any questions, please contact your child's principal.