Regional Enhancement Millage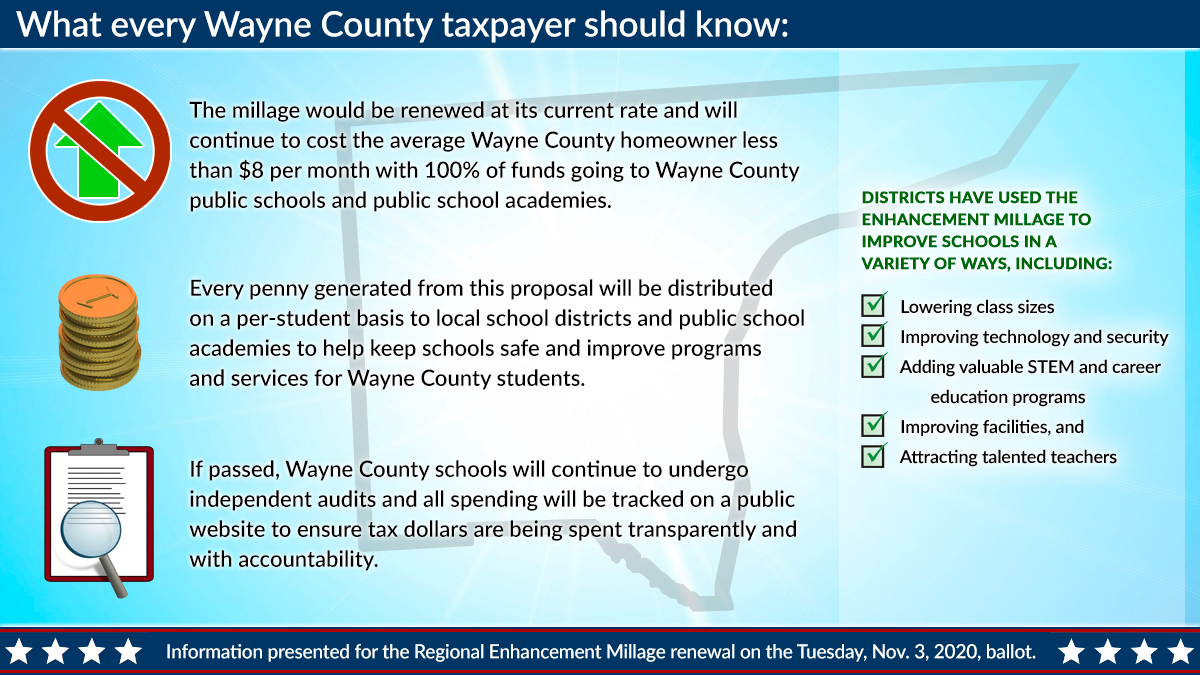 Learn about the Wayne RESA regional enhancement millage renewal on the Tuesday, Nov. 3, ballot
The Wayne RESA regional enhancement millage provides financial support for local districts faced with state budget cuts – allowing them to promote safety, prepare students for jobs and provide world-class programming for both special education and general education students.
Each district has used the enhancement millage to improve schools in a variety of ways, including:
Lowering class sizes
Improving technology and security
Adding valuable STEM and career education programs
Improving facilities, and
Attracting talented teachers
The current regional enhancement millage provides schools with resources that would otherwise not be available to help address new costs related to the COVID-19 pandemic and a safe return to school for both online and in-school instruction.
What every Wayne County taxpayer should know:

The millage would be renewed at its current rate and will continue to cost the average Wayne County homeowner less than $8 per month with 100% of funds going to Wayne County public schools and public school academies.

Every penny generated from this proposal will be distributed on a per-student basis to local school districts and public school academies to help keep schools safe and improve programs and services for Wayne County students.

If passed, Wayne County schools will continue to undergo independent audits and all spending will be tracked on a public website to ensure tax dollars are being spent transparently and with accountability.