November 15, 2022
Upcoming Event: CASH FOR GRADS - Fund Your Future (Seniors Only)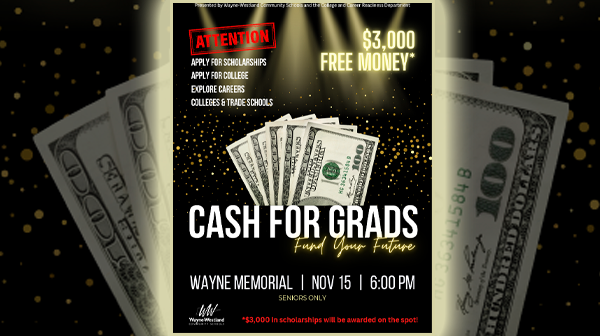 Presented by Wayne-Westland Community Schools and the College and Career Readiness Department
For more information, contact Daryl Beebe at beebed@wwcsd.net or 734-419-2084.

Cash For Grads Event Links (Students will reference these links during our Cash for Grads event on the 15th.)


Cash For Grads Event Flyer
EVENT DETAILS:
November 15, 2022 6 p.m.
Wayne Memorial High School

CASH FOR GRADS - Fund Your Future (Seniors Only)
Apply for Scholarships
Apply for College
Explore Careers
Colleges & Trade Schools
$3,000 in *Free Money

*$3,000 in scholarships will be awarded on the spot!

Cash For Grads Event Flyer


Watch 60 Seconds in Wayne-Westland Cash For Grads Event Video