Community Partnerships and Outreach
Welcome to the Office of Community Partnerships and Outreach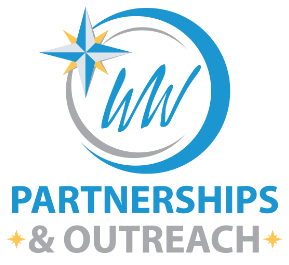 The Wayne-Westland Community Schools Office of Community Partnerships and Outreach is committed to creating opportunities for students to flourish through exceptional community, corporate and university partnerships. These partnerships empower our students to reach their maximum potential through multiple student enrichment programs nestled in the district's academic, athletic, fine art, STEM and wellness programs.
We invite you to partner with us by providing support for special programs, in-kind services, and targeted resources that contribute to student opportunities that will make a significant difference in their lives now and in the future. Our goal is to leverage your professional excellence and passionate commitment to ensuring Great Futures Start Right Here in Wayne-Westland Community Schools.
Impact
Our students, staff and schools benefit daily from the work of our community, corporate and university partners.
Our Partners:

Provide volunteers to tutor, mentor and offer one-on-one support to our students
Offer scholarships and donations to further our strategic goals and provide enrichment opportunities for our students
Introduce our students to real-world careers through career days, internships, field trips and more
Support and donate to our literacy, arts and STEM curriculum by offering fun and engaging programs for our students during and after school
Provide direct support, assistance and programming to students with the greatest level of need
Provide opportunities for all students to participate in organized sports and physical activities
Support family engagement projects, wellness and mental health programs
Support our commitment to equity, access and inclusion for every student every day
Enrichment Programs
Academic Enrichment
An enrichment program enables students to realize their potential in various settings within and beyond the classroom. Through academic enrichment programs, students can learn how to positively grow their interests and skills to have a more robust understanding of their potential. Your support in this area helps to fund field trips, hands-on activities in the classroom, and exciting take-home learning materials. What can we add here?
Sports for ALL
In Wayne-Westland Community Schools, we believe in the importance of educational athletics, and we want all of our students to be able to participate. Therefore we have chosen NOT to have any participation fees for our student-athletes. This is true for ALL athletic teams in the district. Your support in these programs ensures NO participation fees are charged for elementary, middle or high school sports teams.
STEM
Science, Technology, Engineering and Math (STEM) education is an approach that helps students succeed in college and their future careers. STEM education focuses on hands-on, problem-based learning, collaboration and innovation. When you partner with our STEM programs, you support the STEM Center, robotics, innovative technology in the classroom and other ingenious projects.
Community Outreach
This enrichment program supports students and families that are experiencing financial hardships. Support programs that apply a holistic approach to education encompass the academic, economic, social, emotional, and physical development of the student and their families.

How to Give
Please visit https://bit.ly/WWCSDonation to give. Donations to the district in general or any questions should be directed to:

Adrienne J. Nathan
Director of Community Partnerships and Outreach
Phone: 734-419-2092
Email: partnerships@wwcsd.net
Donation Guidelines
Our goal is to make the donation process as straightforward as possible for the donor and ensure that contributions are leveraged for maximum impact. Donations to the Wayne-Westland Community School District and its schools are tax deductible under section 170(c)(1) of the Internal Revenue Code.
We can accept donations of money, goods, and supplies. However, non-monetary donations such as time and service are not tax deductible. Please note that, in accordance with IRS regulations, establishing the monetary value of donated items is the exclusive responsibility of the donor.
The Wayne-Westland Community Schools Board of Education has the right to refuse acceptance of any item that will place a financial or other burden on the district.
ARE YOU A WAYNE - WESTLAND EMPLOYEE?
If you are a member of the Wayne-Wayne Westland Staff looking for financial support for an enrichment program project, you can learn more and apply for funding by completing the Partnership and Outreach request form.
Follow us on Social Media