John Glenn Latest News

View Archives
July 13, 2022
Class of 2022 Graduation Photos Search
Use your phone to scan the QR Code (or click the link below) to search for your 2022 Graduation photos. Click "Read Full Article" to get to full size QR image.

GradPhotoNetwork.com
June 15, 2022
Healthy Food to Fuel your Summer
Wayne-Westland Schools announces the sponsorship of the Summer Food Service Program for children.
April 26, 2022
Dear Wayne-Westland Students, Staff and Families,
April 11, 2022
Congratulations Wayne-Westland Winter Percussion - State Champions!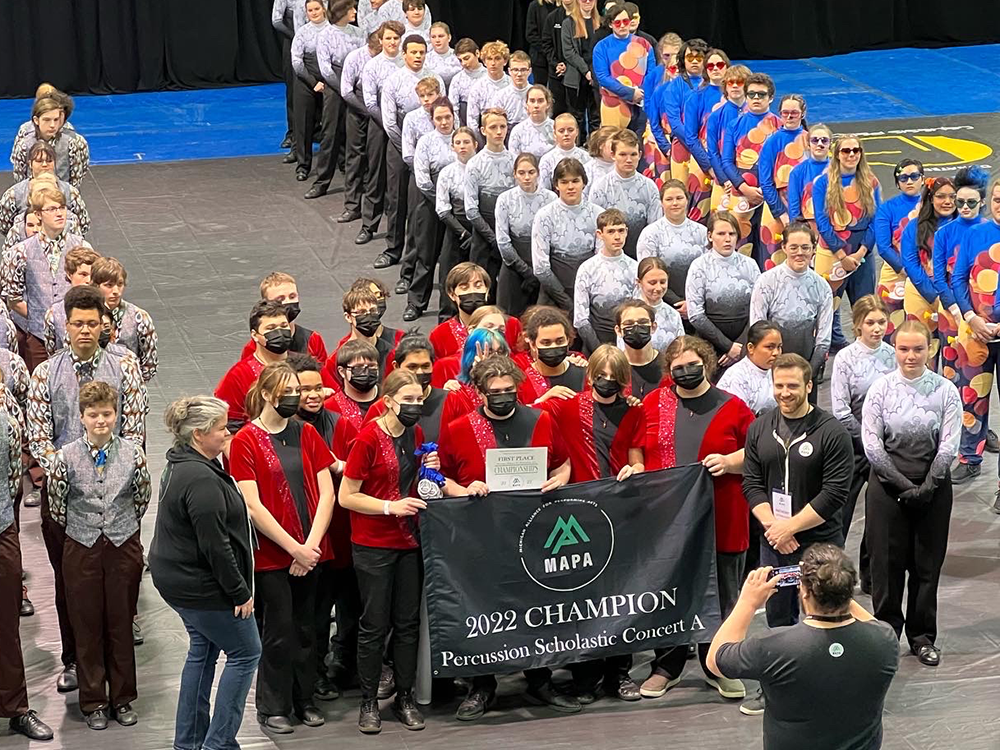 Our Wayne-Westland Winter Percussion students (comprised of students from Wayne Memorial HS and John Glenn HS) performed at the Michigan Alliance for Performing Arts state championships this weekend. They earned first place in Percussion Scholastic Concert A and are State Champions. We are so proud of their hard work and determination to learn and improve their musicianship.

See photo gallery of the event along with other photos.
March 15, 2022
March Madness Spirit Week
March Madness will kick off the week of March 21. Think of March Madness as a college and career readiness spirit week. Our goal is to start or perhaps ignite the conversation around the various pathways students have after high school. Each day will be be focused on a different pathway with a theme.
Monday: Military Monday
Tuesday: Trades Tuesday
Wednesday: William D. Ford Wednesday
Thursday: Tycoon Thursday
Friday: Final Four Friday
January 31, 2022
Severe Weather Procedures
Severe weather is expected in our area later this week so we want to share the process and factors the District uses when determining a weather-related school closing. The decision to close school due to inclement weather is not an easy one. We know that it is best for students to be in class, but we can't control the weather. Our priority is the safety of our students and staff.

More details about our Inclement Weather Procedures
January 28, 2022
Letter to Wayne-Westland Community School Students & Families
Dear Wayne-Westland Community School students & families,
We are officially halfway through the 2021-22 school year. While this year has certainly had its challenges, I am proud of our community for remaining resilient and working together toward one important goal: the academic success and well-being of our students. With six months of the school year in the books, we thought it a good time to provide our families with a "State of Our Schools" update.
ESSER Funding
As you likely know, our District is anticipating receiving approximately $47,801,861 in ESSER COVID-19 funding. This funding has allowed us to implement new policies and procedures designed to protect the health and wellness of students. This funding also allows us to plan for future improvements to our school buildings and programs, and to advance achievement. To date, we've used ESSER funding to provide building nurses, contracted services to support learning, technology purchases, HVAC upgrades, curriculum, virtual learning opportunities, staff costs for the prior year for summer learning as well as ongoing mental health support.
Staffing Shortages
Like many districts across Michigan and the nation, we are facing the challenge of staffing shortages, including teachers, substitutes, professional support staff, bus drivers and more. Wayne-Westland Community Schools is more than a school district—we are a community, and it takes all of us working together to support our students. To address staffing shortages, we have contracted with two staffing referral and workplace solution agencies to assist with our efforts of placing qualified individuals in positions that have been difficult to hire. Additionally, we have worked with our Communications Department to boost social media advertisements targeted for specific openings. We are also active in fostering pre-existing as well as new partnerships with local universities to create a direct line of access for potential teaching candidates. Through these efforts, we have been able to ensure our students are receiving the resources they need to grow academically, socially and emotionally. If you or someone you know is interested in working for the district, please visit our website.
Health and Safety
Our number one priority at Wayne-Westland Community Schools is to provide a safe and comfortable learning environment where students are positioned to thrive in our schools and beyond after graduation. It has been a joy having students and teachers back in the building this year for in-person learning. We're seeing students participate in hands-on learning once again and building relationships with their peers and teachers through clubs and activities. When children attend school all day, every day, they are more likely to see a boost in their academic and mental well-being. Help your child, and school, achieve success by ensuring they attend school each and every day.
We understand the pandemic continues to be an issue in Wayne County. I encourage families to monitor for signs of COVID-19 and keep your children home if they have a fever or are feeling ill. We have resources and support available to your student should they have to quarantine. Please continue to practice safe COVID-19 practices such as washing your hands, doing at-home symptom checks, social distancing, wearing masks and getting the vaccine.
Thank you for your continued commitment to Wayne-Westland Community Schools and for partnering with us on your child's education. By working together, we can ensure that the second half of the school year is one to remember for our students, our families and our school community.
Sincerely,
John Dignan, Ed.D.
Superintendent
January 14, 2022
Good morning Students, Staff and Families,
This is a reminder that the District will resume in-person learning on Tuesday, January 18, 2022, for all PreK-12 grade students.
Here is the schedule for the upcoming week.
January 17 : No School - Dr. Martin Luther King Jr. Day
January 18 : Full day of In-person learning for all K-12 grade students
January 19-21 : Full day of in-person instruction for elementary students
January 19 : Full day of in-person instruction for middle school students
January 19 : ½ day of instruction for high school students. Final exams
January 20 : ½ day of instruction for middle and high school students. Final exams
January 21 : ½ day of instruction for middle and high school students. Final exams.
January 24 : Second semester begins
January 14, 2022
WWCS Announces Partnership With Care Solace
Wayne-Westland Community Schools has selected Care Solace, an organization determined to calm the chaos of mental health care coordination, to expand access to community mental health and substance use treatment providers for students, staff, and their families. Care Solace provides a Care Companion™ team who can quickly and confidentially find available providers in the community. Care Solace also equips school systems with a customized online tool that gives community members a way to anonymously search for community-based providers matched to their needs.
We will be sending further information sonn on how WWCS Families and Staff can benefit from Care Solace.
January 7, 2022
Letter to WWCS Community
Dear Wayne-Westland Families,
While students will be learning remotely next week, we will have food distribution days to provide all Wayne-Westland PreK-12 grade students with five days of breakfast and lunch.
Curbside Food Distribution Schedule
Tuesday, January 11th from 1:00 pm - 6:00 pm
Wayne Memorial High School, 3001 Fourth Street, Wayne, MI 48184
Wednesday, January 12th from 6:00 am - 11:00 am
John Glenn High School, 36105 Marquette, Westland, MI 48185
Thursday, January 13th from 7:00 am - 12:00 pm
Roosevelt-McGrath Elementary School, 36075 Currier, Wayne, MI 48184
COVID-19 Testing for students and staff
Wayne-Westland Community Schools has nurses assigned to each school in the District. Next week, nurses will be on-site to administer Rapid COVID-19 Antigen tests to District staff, students, and families. Parents or guardians can contact the nurse at your child's school and set up a drive-thru appointment. The test results will take 15-20 minutes.
Sports and extracurricular events
The winter sports season will begin on January 18, 2022. There will be no sports practices, afterschool clubs, or extracurricular activities the week of January 10, 2022.
If you have any questions, please contact your child's school. Have a wonderful weekend.

Sincerely,

John Dignan, Ed.D.
Superintendent