General Enrollment Questions
How do I enroll my child into Wayne-Westland Community Schools?
Pre-enrollment must be completed online. The enrollment will be finalized in-person by a parent or legal guardian at your child's school. For more information, please refer to the How to Enroll page and the "What to Bring" section.
At what age can a student be enrolled?
Your child must be five years old by September 1st of the year of enrollment. This age requirement does not apply to disabled students enrolling in the Early Childhood Special Education program.
Is
WWCS

a School of Choice district?

Yes. Please read more about our Intra County Schools of Choice program. In-District School of Choice Waitlist contact form.
According to my address, which school should my child attend?
Please call 734-419-2083 to find out which school your child will attend. You can also visit the Locate My School page to view the boundary maps for each school.
What is required to prove residency?
Refer to the What to Bring Information.
What do I need to do if I move to a new home within WWCS?
Appropriate "Proof of Residency" (see above) must be submitted. Addresses will not be changed until documentation is received.
What if I move after June

1st

?
Please inform us by August 1st.
Birth Certificate Questions
What is a "Certified" copy of a birth certificate?
A "certified" copy has a raised seal and must be obtained through city or county offices.
Where do I get a "Certified" copy of a birth certificate?
Copies may be obtained through the city and/or county of birth.
Do you keep the "Certified" copy of the birth certificate?
No. A copy of the birth certificate will be made for the student's records and the original returned.
Immunization and Health Questions
Immunization and Health Questions
Why is Immunizations Important?
State law prohibits a school district from enrolling a student who has incomplete immunization information, unless a waiver is signed. (Read more about obtaining a Nonmedical Waiver.) To ensure compliance, state funding may be partially withheld if new students do not have current/complete immunization records on file with the school.
Does the county forward immunization records to the school?
No. It is the responsibility of the parent/student to provide immunization documentation.
Can I get my child immunized through the county?
Yes. For more information please visit Wayne County's Website or refer to the Health Center Information for additional options.
How to add District Calendar to my calendar feed?
On our homepage, you'll notice a calendar on display.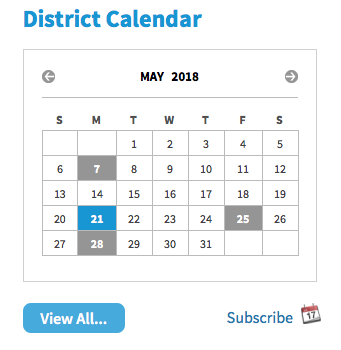 Step 1:
Click the Subscribe icon

You will see the following information pop up.
iCal Feeds
iCalendar (iCal, .ics) is a popular calendar data exchange format which allows you to subscribe to a calendar and receive updates as calendar data changes.
How to access iCal feeds
Read step by step instructions on adding an iCal feed to Google Calendars and your iPhone. Download the latest PDF Viewer
Step 2:
The link above for following step by step instructions is a good resource provided by our web host. Follow these steps and you will see it appear in your own calendar feed.
For any other enrollment questions, please contact the Curriculum, Instruction and Assessment office at 734-419-2083.