Skilled Trades
MUST Construction Careers :

https://www.mustcareers.org/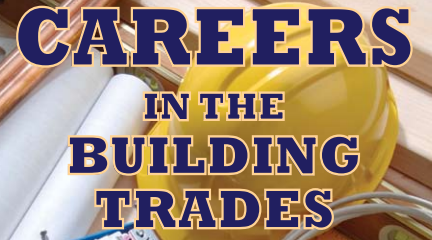 MUST Careers connects you to apprenticeship opportunities within the unionized construction trades. The MUST organization consists of the trade affiliates of the Michigan Building and Construction Trades Council and their contractor association partners. We are committed to the promotion of quality conscious, productive and safe workers in the construction industry. It all begins with an apprenticeship - a unique earn-while-you-learn opportunity to build a lifelong career in the Union construction trades.

Careers in the Building Trades
Explore the trades:

https://www.mustcareers.org/trade-descriptions
Build Your Future :

https://byf.org/
America needs certified craft professionals with technical skills who can keep it growing. Finding a career in construction is a life-changing decision to fulfill important roles in building communities. BYF helps in discovering how construction can be a good fit for your future — from making the right preparations to finding training.
Watch the many Success Stories from people in the trades :

View Playlist on YouTube
Student & Family Resources :

https://byf.org/discover/students-families/
Apprenticeships
Please see our Resource Guide starting on page 70 for more information on Skilled Trades. : Resource Guide - Skilled Trades
Oakland County Guide : Apprenticeships in the Oakland County Guide
Skilled Trades Resources
Michigan's Resource to Apprenticeship Opportunities (MASCI) : https://www.masci.org/
Helmets to Hardhats : https://helmetstohardhats.org/
Michigan Construction Careers : https://www.constructioncareersmi.com/
Going Pro : https://www.mitalent.org/skilled-trades
Available Apprenticeships : https://www.semca.org/job-seekers/apprenticeship/

MUST Career Brochure

Careers in the Building Trades
Lightweight Innovations for Tomorrow
Lightweight Innovations for Tomorrow is offering Entry Level Welding and CNC Operations training programs. These programs will be taught in the LIFT Learning Lab located in the LIFT Manufacturing Innovation Institute in the Corktown neighborhood of Detroit.
CNC Operations Training : https://lift.technology/cnc-operations-training/
Welding Training : https://lift.technology/welding-training-program/