District Safety
Introduction

The safety and security of our students and staff is our top priority in Wayne-Westland Community Schools. We have a District Crisis Team and each school has a Building Crisis Team that responds to all emergency situations. Our crisis teams have Emergency Operations Plans that include guidance and directions for emergency situations.
As a result of the 2018 bond, our schools will be equipped with safety measures that include:
New secure entries
Updated interior and exterior camera systems,
Updated visitor access cameras and check-in
Updated emergency alert system
Enhanced 911 phone system allowing first responders to immediately identify the location of a call within a building

In addition, we are training all of our students and staff in ALICE (Alert, Lockdown, Inform, Counter, Evacuate). ALICE preparedness training will help respond with confidence to increase the survivability of an act of violence.
---
Emergency Services
We have strong partnerships and collaboration with local law enforcement and fire services. Our high schools have assigned School Resource Officers from the City of Westland and the City of Wayne. These officers also provide support to our other schools
Our District Crisis Team meets regularly with police and fire officials from Canton, Inkster, Wayne and Westland to discuss best practices for the safety and well-being of our students and staff.
Emergency Drills
Michigan schools are required to conduct the following drills each year:
Five fire drills
Two tornado drills
Three safety drills
Every school has an Emergency Operations Plan that outlines the process for these emergencies. Documentation of performed drills is provided on our website.
Crossing Guards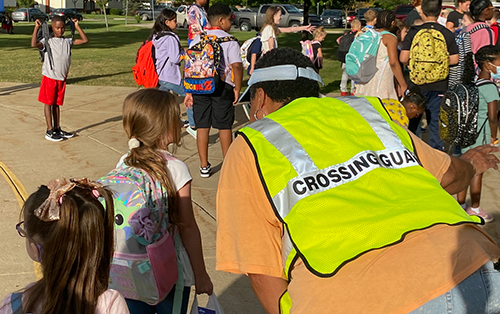 Wayne-Westland Community Schools has partnered with the City of Westland Police Department to provide crossing guards at our elementary schools. The crossing guards provide safe crossing for students in parking lots and intersections before and after school. They are trained in stranger danger, CPR/First Aid, missing persons, and more.